Chris Draft Named "Hero" by D.C. Nonprofit Organization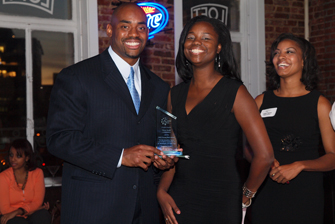 NFL veteran Chris Draft has spent the last 13 years of his life tackling some of the toughest and biggest opponents in the National Football League. Now, Draft is being honored for tackling literacy and health disparities in the community through his work with The Chris Draft Family Foundation. Capital Cause, a nonprofit dedicated to providing an avenue for young professionals to give back creatively to local communities, recently honored Draft and others during the Political Fusion reception in Washington D.C.

"Words can not express the gratitude I have for receiving this honor from Capital Cause," said Draft, who is among the inaugural group of honorees. "Each day I wake up, I challenge myself to be a better person, a better leader in my community and a better contributor to society as a whole. I thank Capital Cause for helping me shed light on the disparities that plague youth and families across this nation."

Capital Cause's Political Fusion networking reception honored Draft with the organization's "Unsung Hero" award for his service to the local community through the Chris Draft Family Foundation and his commitment to literacy through the launch of his children's book, "Do You Want To Play Catch?" and work with literacy awareness groups nationwide.

The Chris Draft Family Foundation strongly believes that education is the building block to action and improvement in all aspects of life. Through Draft professional career, he has identified literacy as the clear foundation of a solid education. "I feel that when we actively engage in the learning process, then we all win. I have witness first hand how education can open doors and how a lack of education can close another. We have to give our youth a fighting chance and it's as simple as giving them a book, reading to them and engaging with them on a personal level," added Draft,

Draft established the Literacy Leaders™ initiative, which is a network of people dedicated to "changing lives, saving lives, one book at a time" through promoting literacy and encouraging reading as a means of addressing the nationwide learning disparity.

The foundation also focuses on a number of key initiatives including character building, asthma awareness and community service. "The Chris Draft Family Foundation is focused on creating a better person in every aspect. Whether it's a personal development program or a fitness program, we are there on the front line working with youth and families in cities throughout the United Stated," stated Draft.
Capital Cause also recognized Rep. Yvette Clarke (D-NY), who has had a commitment to the advancement of young professionals and has championed a platform that serves low-income children and families, and actor and writer, Hill Harper who has a commitment to young professionals and charitable and political contributions to society.

Partnering organizations include the National Black Graduate Student Association, Women. Politics. Media., Red Carpet DC, E.S.T. Unity, The Dale Consulting Group, Apathy Remedy, Exemplary Editing, The Actorvist Project, Acts of Faith in Love & Life, Hell in a Handbag, and Circle 7 Entertainment.