Chris Draft Is Michelle Obama's Greatest Exercise Ally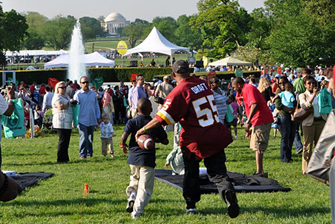 Story Courtesy of rollingout.com
As the quintessential example of brains, brawn and brotherhood, former NFL linebacker Chris Draft darts and dashes around the image of the stereotypical athlete like a running back looking for daylight. For one thing, this is an athlete and celebrity who really does care.

Draft is also polished, educated at an elite school, is eloquent, is an author, is relentlessly single-minded about living healthy, exemplifies fiscal prudence and works hard to uplift families and youth. His Chris Draft Family Foundation advocates strong family ties, accountability, responsibility, character and healthy lifestyles. His foundation is of such depth and scope that it attracted the attention of the highest levels of power in the United States government.

Even as a stench wafts off the NFL lockout — a horrid odor emanating from a squabble between millionaires and billionaires over getting even more money — Draft counters that image of morbid selfishness and narcissism with his devotion to someone and something other than his own interest: families and health.

"Being a ballplayer is not about being a thug. Being an athlete is an opportunity to be a leader and to talk about the importance of exercise and staying in shape and literacy," Draft admonishes, passion dripping off of each word. "You can have high level of academics and athletics. You can have high expectations in the classroom and on the football field. My foundation is about empowering families and living healthy lives."

In the process of instituting his interstate empowering campaign, Draft is helping to, well, draft a new image of an athlete and celebrity with his tireless dedication to education and literacy. As the national PTA ambassador, President Obama and the first lady Michelle invited Draft to the White House for the annual Easter Egg hunt and to help instill the importance of exercise, education and edification, which is what Michelle Obama is a strong proponent of.

The 12-year NFL star and economics graduate from Stanford University travels around the country to get families and youth to pay attention to their health. In fact, at his annual "All-Pro Dads" breakfast in April, Draft spoke to group of more than 150 fathers about the importance of character and family. The room was filled with a diverse array of faces representing different ethnic backgrounds.

"I tell them it started way back with the values my parents installed in me at an early age," Draft says of the incessant questioning of his 40-yard dash times and bench press prowess which inspired him to write the book, Do You Want to Play Catch?. "As we played catch, by throwing the ball together, we were together as a family. We played basketball as a family. And we read as a family. That's who took me to the library and showed me all the different books. It is the story about how the little things make a big difference."

Tragically, these are not the type of intangibles and character traits that go screaming from headlines, blog sites or "Entertainment Tonight." Reality show producers do not trip over themselves to feature morally upright citizens like Draft. Mainly because Draft doesn't come equipped with a volatile temperament and infantile mentality that ignite emotional explosions on TV to attract gawking audiences.

Draft doesn't dwell on those trivialities. He continues to drive hard to break through people's apathy and make them care about healthy living — unfurling the same ferocity and laser focus he used to drive his shoulders hard through running backs and quarterbacks during his 12-year NFL linebacker career. He may still have pieces of quarterbacks lodged within his digestive tract. In fact, Draft looked like he could still suit up today and deliver more nightmares and emergency-room specials to quivering quarterbacks.

You see, to a man like Draft, health and exercise are not just hollow talking points or something to do when you can squeeze it in every other Thusday evening. To Draft, health is a way of life. It is his ministry. The very concept of health flows through his bloodstreams like so many red blood cells. He and health are pretty much one in the same. This is what he is trying to get across: take care of body and your body and mind will take care of you.

As he continues to procure partnerships with parents, school districts, community organizations and health institutions around the country to better families, Draft is using the same intangibles that got him entry into arguably the nation's top college and then play in the nation's most popular sport: nonstop excellence.