Survivor at Every Stadium: Cleveland Browns #DawgPound
December 09, 2018
---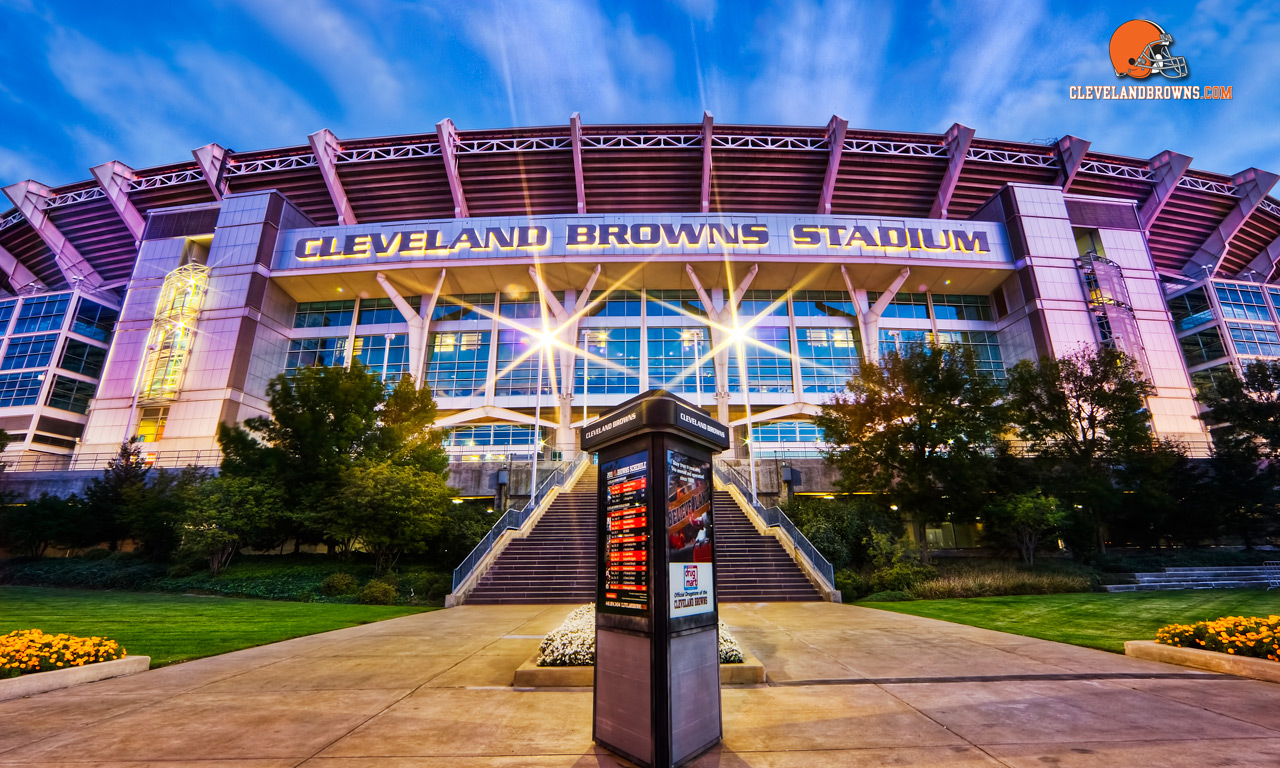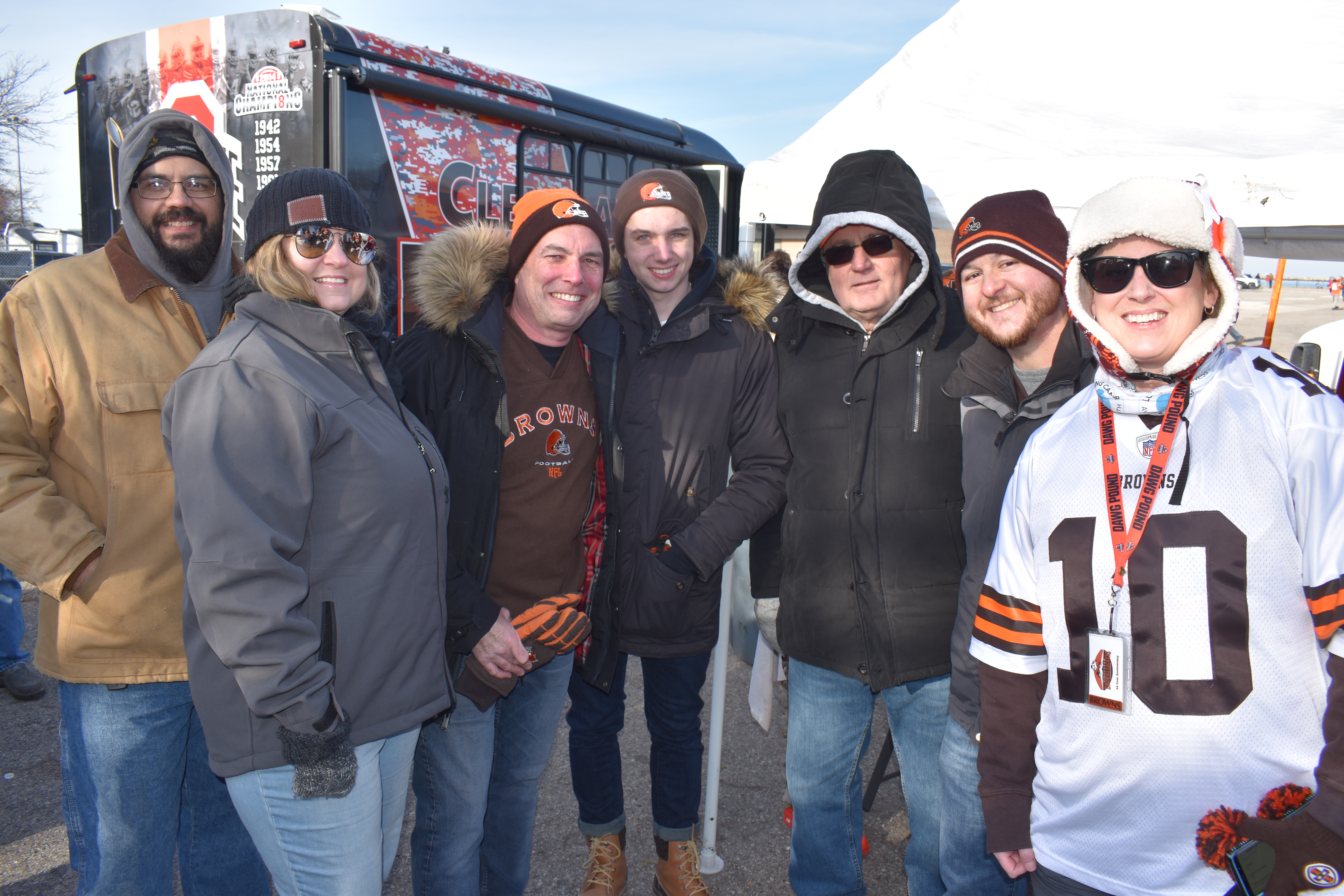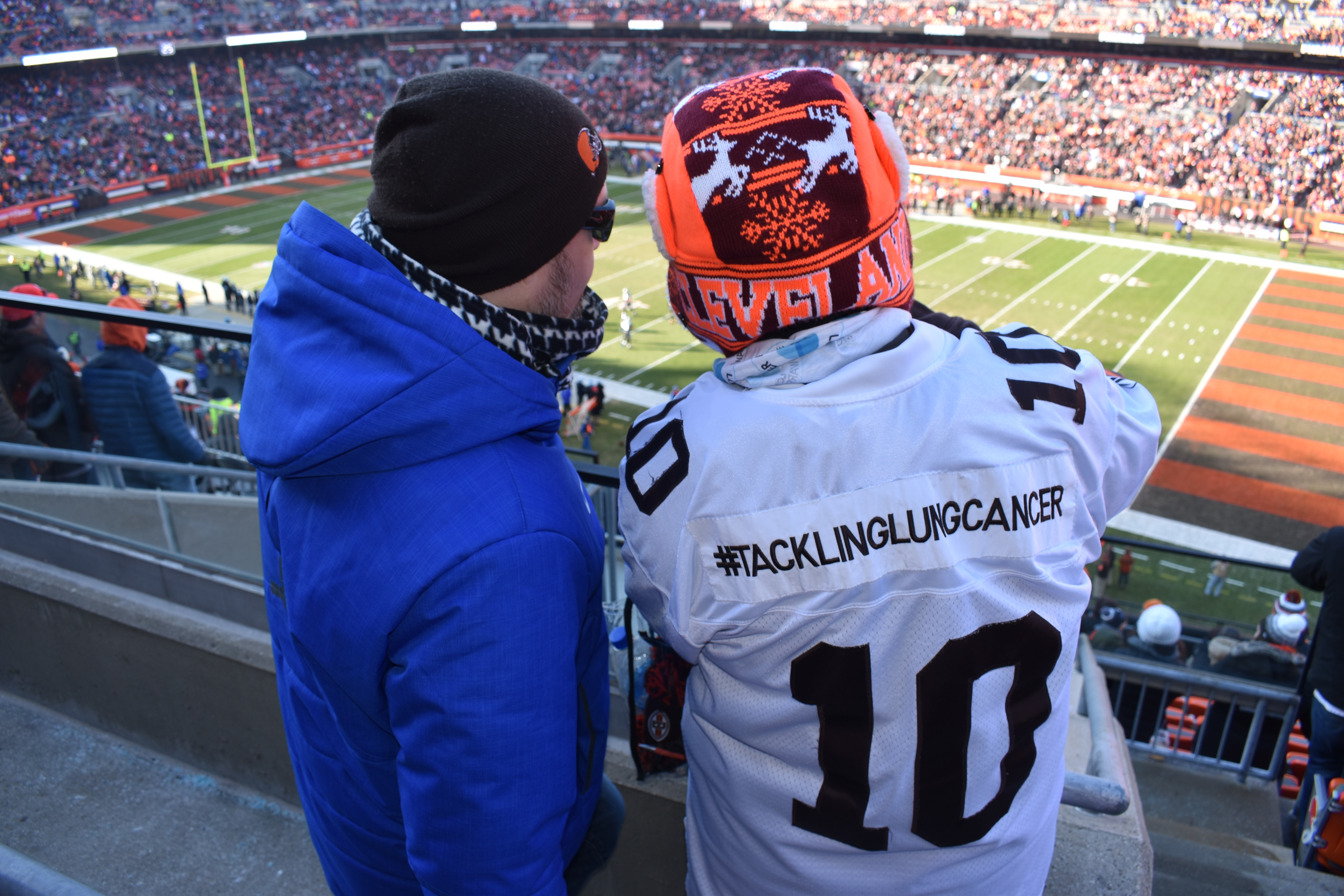 Cleveland, OH. Lung cancer survivors Dan Cadigan, Matt Hiznay, Kristal Russo and Lisa Moran, and lung cancer advocate Kristine Cherol will represent Team Draft at First Energy Stadium. The group will tailgate with the Elf Pack before watching the Browns take on the visiting Carolina Panthers.
Exercise enthusiast Lisa Moran chooses not to let a Stage IV lung cancer diagnosis at age 44 get in the way of living life. Today, she is a lung cancer advocate and encourages others to speak with their doctors about molecular testing.
When I hiked up the Manitou Incline on Pikes Peak, I felt physically at my best but my breathing was labored. Friends and family suggested it was the change in altitude. My breathing problems progressed to a persistent cough and heaviness in my chest, but more than one doctor said my lungs sounded clear. When a friend asked if I would climb the incline with her, I agreed but felt it would be safer for both of us if I had my breathing problems checked before making the trek again.
Results from an X-ray and CT scan confirmed a mass in my lung. I had a bronchoscopy to take a tumor sample, and I was diagnosed with Stage IV non-small cell adenocarcinoma of the lung. I was told it was inoperable and incurable. Read More about Lisa Moran
Suddenly I (Kristine Cherol) was a newlywed widow — two words that don't belong together. John deserved a chance at a cure, but the current treatments for stage IV lung cancer only gave us the possibility of stable disease. We hoped John would become one of the patients who would be with us three, five, or perhaps even 10 years, but it was not meant to be.
More treatments for lung cancer have been approved by the FDA in the last three years than in the previous 15 years combined. But the depressing reality is that the five-year survival rate for a stage IV patient is still only 4 percent. More than half of patients with lung cancer will die within the first year of being diagnosed. With those statistics, I should be happy I had two years with John; I should be grateful we were able to have a wedding. ~ Read the full story by Kristine Cherol
In 2012, we launched our inaugural Team Draft Survivor Series initiative on CNN during a nationally-televised prime time special focusing on lung cancer and our National Campaign to Change the Face of Lung Cancer. Our Survivor at Every Stadium, leverages our connections with the NFL, its teams and players with our relationships with many of the top cancer centers in the country. As a part of our International Campaign, the games allow us to celebrate our survivors, raise awareness, and give hope to those battling the disease, as well as shine a light on the important work being done at cancer research and treatment centers around the country.
Team Draft's goals are to create a unique experience for participating survivors and to raise awareness on a local, national, and international level by using each game and each survivor's story to weave a broader narrative about the state of cancer and the hope that now exists for those battling the disease.
This is my first game as an adult…lol! I remember how amazing it was to go and do a halftime show for high school marching band. Just the size of the stadium and being with all my friends watching the game. The Browns are just part of your life when you grow up in NE Ohio. My dad wears Browns gear every Sunday, it was always on TV at home and my family never misses it. For me it means family time. ~ Kristine Cherol
I watched the Browns every week on TV with the Pikes Peak Browns Backers. Living in Colorado, I rarely get to go to Browns games. I'm so excited to be going to the game with Team Draft and getting the chance to see Baker and the team play live. ~ Lisa Moran
Excited to be taking my 18 year old son Conor. Last game he was at was as a toddler. #CreatingNewMemories ~ Dan Cadigan
My favorite Browns memory was a game in early November 2007 against the Seahawks. It was a late afternoon start, and was a late afternoon start, and the first flurries of the winter actually fell in the fourth quarter. I attended with my father, my brother, my grandfather, and my uncle-- we had a tradition of going to one game each year together. The game went into overtime. The Dawg defense made a huge stop on fourth down, and we kicked a field goal for the win. The speakers blasted "Shout" and I turned to see my 82 year-old grandfather dancing with a stranger in elation. It would be the last game he attended at the stadium with us." ~ Matt Hiznay
Team Draft's fifth annual Lung Cancer Survivors Super Bowl Challenge kicked off on November 1, 2018. This unique fund raising challenge gives lung cancer survivors the opportunity to raise funds for public awareness and cutting-edge research that is giving new hope to those battling this often misunderstood disease. The top three fundraisers, announced on December 31, 2018, will earn trips to Super Bowl 53 in Atlanta, GA, the 2019 NFL Pro Bowl in Orlando, FL and the Taste of the NFL in Atlanta, GA. The survivors have an opportunity to share their powerful stories with key individuals with influence from across the country. #RepYourCity #RepYourCancerCenter #RepYourLCOrganization
**The lung cancer survivors that raise over $5,000 will be able to designated a beneficiary (Cancer Center or LC Organization) that will receive 80% of their raised funds (-fees) and the remaining 20% will support Team Draft's mission to change the face of lung cancer.
Special thanks to the Cleveland Browns, Elf Pack, the NFL and all of our Team Draft supporters for helping make this event possible.
Donate now to Support the National Campaign to Change the Face of Lung Cancer!