Asthma Team™, Asthma Van Visit Normandy School District Health Fair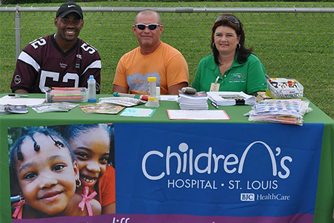 In the wake of the recent death of former Miami Dolphin Jarvis Williams due to complications from Asthma, NFL linebacker Chris Draft is reminding the country about the importance of controlling the disease. Draft made a stop in St. Louis on Saturday, June 5, at the Normandy School District Health Fair with the St. Louis Children's Hospital Asthma Van to raise Asthma Awareness and talk with people who suffer from the disease.

The Normandy School District Health Fair is a community event that allows people from the area to come together and get information on keeping themselves healthy. The event took place at Normandy High School from 8:00 a.m. – Noon. Draft and the Asthma Van will be on hand to distribute information about the disease and administer free asthma screenings.

Following an asthma attack during the first week of training camp in 2007, Draft realized that as he was beginning to work with local organizations across the country that promoted asthma awareness and education, that he needed to figure out a way reach out to people nationwide. To accomplish this goal, Chris created the Asthma Team™, united by the common goal of Tackling Asthma™.

The Asthma Van is a mobile unit that travels to 12 public schools throughout the St. Louis area and services 800 kids with asthma each year. The van will be stationed in the parking lot of Normandy High School and will have nursing staff and educators on site to administer screenings and distribute information about asthma.