Get Tough with Asthma: Straight talk from NFL Pros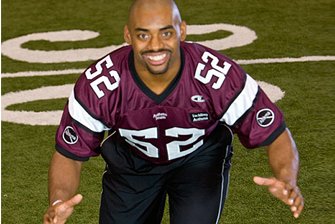 It's bad enough to have to tackle a 200 lb opponent or catch a flying leather missile before it hits the ground…but then you've got to run with it – in the heat and humidity, in the bitter cold of winter, in the rain and sleet, on the practice and playing fields. Add asthma to the mix and it reads like Mission Impossible. But three Washington Redskins defy the odds. They train to win not just in football but in their battle with asthma. Chris Draft, veteran NFL linebacker now with the Washington Redskins, says it's all in a day's work – and he doesn't let asthma slow him down.

"My asthma started up when I was in college, playing football for Stanford. I couldn't go through a practice or game without choking so bad that I would sometimes throw up. The trainers couldn't figure out what was wrong with me – and they would take bets on how long I could go in a game before getting sick! One day, after making a tackle that preserved a crucial shut-out, I found myself lying on the field gasping for breath, wondering if my football days were over.

"I decided not to take 'I don't know' for an answer anymore. It was very challenging – I had to fight to figure out how to manage my asthma… I found if I didn't ask the right questions, I wasn't given the information that I needed. I had to learn to advocate for myself.

"Controlling asthma is a team effort. I had supportive parents and friends who backed me up and encouraged me. And I got a lot of help from my allergist. I'm not going to tell you that from the time of being diagnosed all of a sudden it was smooth sailing through the NFL – definitely not – but that was really the beginning of my fight to tackle asthma so I can make sure it won't come up and knock me down."

The Asthma Team™

Chris has taken his can-do attitude and persistence off the field as well. The Chris Draft Family Foundation reaches out to people across the country with motivating messages about integrity, responsibility, education, nutrition and – yes – asthma.

As a professional athlete, Chris has access to medical care and medications that can keep him breathing, but he knows there are many people without that protection. To draw attention to the problem, Chris began recruiting children and their families for the Asthma Team, united by the goal of Tackling Asthma™. At away games, Chris meets and invites his new Asthma Team Ambassadors and their families to stand with him, so that every time he makes a tackle, he tackles asthma, and the team is right there behind him.

He's also recruited some of his pro football friends as team captains, including two Washington Redskins: Adam Carriker and Anthony Armstrong. No two cases of asthma are alike – and these football players are living proof. In their stories, you'll find totally different pictures of asthma – but in the end, they are alike in their refusal to let breathing difficulties take away their dream of playing NFL football.