Miss Missouri Discusses Asthma Control Everyday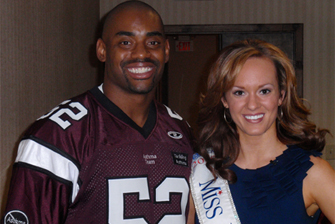 Follow Erika on her quest to become Miss America!
For the last few months I have been working with Tammy Rood from MU Hospital in Columbia, MO to learn about asthma education and everything that goes with it. She works with Dr. Ben Fransisco and together they are quite the team and deliver asthma education to patients at the MU Clinic as well as across the state.
The AsthmaReady program has programs developed for both school nurses and children and their caregivers. It covers what asthma is, triggers, what inhaled corticosteroids are, how to properly use inhalers, nasal care, and some other important related topics. This year a new workbook and DVD was scheduled to be released and I was so excited to be able to be a part of it!
Alongside NFL Player Chris Draft, the two of us were able to use our personal experiences and knowledge to record something that will be distributed state-wide for the next few years. We were also joined on set by Dr. Ben, Tammy, four wonderful children, and Al the Respiratory Therapist and jazz musician who sings about asthma. The DVD includes some kid-friendly cartoons and interactive features as well. This has been an amazing experience to work with Tammy and Dr. Ben and I cannot wait to see the finished product!