Draft Day Lessons Still Resonate with Kennett School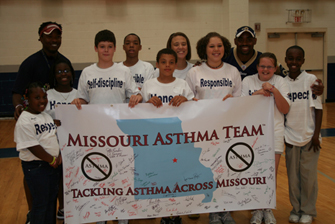 Kennett is a small town in southeast Missouri known as the Bootheel.
Although Kennett is a rural area, asthma rates in children are double the rest of the state. In 2009, a group of students at Kennett Public Schools were given a rare opportunity to attend the Chris Draft Day in St. Louis.

Eight students and their parents - along with a school nurse, Deb Cook, RN - drove four hours to have a fun-filled day of learning and to hear Chris's motivational message that children with asthma can do anything. The opportunity to meet Chris made them all feel very special.

The children with asthma in this community have very little or no opportunity to interact with individuals with asthma performing at the level of NFL athletes. These students took away a feeling of being able to accomplish whatever they want in life. They were made to feel important instead of different.

A picture of the students with Chris was made into a poster and framed remains on the wall of the school nurse office. Whenever a presentation on the asthma program takes place the Chris Draft Day pictures are always a highlight because it was a fun day and reminds the kids they can control their asthma. To this day, the students continue to frequently comment on how much they enjoyed the event. We appreciated the opportunity to attend the Chris Draft Day. Your dedication to "Tackling Asthma Across Missouri" is super. Thanks for helping Missouri tackle asthma!!"