Girl's Brief Life May Help Save Others with Asthma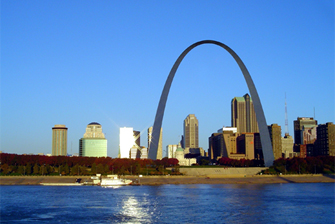 Story courtesy of the St. Louis Post-Dispatch
ST. LOUIS • They did their best to hold on until the end of the countdown — no small feat when you're in elementary school and there's a balloon in your hand.
Then all at once, about 350 students at Walbridge Elementary School released their balloons and watched as they became purple and pink specks above the butterfly garden across from the school. The point was to say goodbye to a friend, Mia Davis, a bubbly second-grader who died this year after struggling with asthma.
"That's my girl," her mother, Jenesha Powell, said to a friend moments before, holding a picture of Mia.
Asthma is a severe problem at the school, Principal Hortense "Cyndi" Harrison-Lewis said, just as it is in most urban areas. In some parts of St. Louis, one in five children has the condition. Nationwide, the number is more like one in 20, said Jordan Wildermuth, programs manager for the Asthma and Allergy Foundation.
The students come from the Walnut Park neighborhood where there's an abundance of older, neglected homes with peeling plaster and lead paint — allergens that can trigger the condition. Compounding the problem is the fact that many parents lack access to a primary care physician.
Mia's schoolmates had been rooting for her for months. In September, Mia's asthma caused her to collapse in gym class and go into an epileptic seizure. Harrison-Lewis administered CPR for 11 minutes until paramedics arrived.
Then in January, Mia collapsed again, this time in the middle of the night in her bathroom at home. Her third-grade sister, Tanesha Courtney, found her the next morning. By then, it was too late.
Mia's parents had struggled for months to pay for her medicine. Her mother and father were laid off late last year and now struggle to feed six children and pay bills. On Monday, Powell faced having their utilities shut off. A school district representative stepped in to help.
Mia's death made a profound impact on the school, which has struggled academically. This year, staff and parents are focused on turning the school around.
"It's made us feel even more committed to the mission, despite whatever obstacle our children face," said Ruth-Miriam Garnett, hired this school year to improve parental and community involvement.
In the butterfly garden, Mia's six siblings wore T-shirts with their sister's picture on the back. The school sang "Kumbaya" and watched as their principal, Mia's mother, a minister and a community leader packed shovels of dirt around a young pear tree, planted in Mia's honor.
The butterfly garden has significance, said Curtis Royston, chairman of the Walbridge CEC Advisory Council. He told students that they, too, would burst out of their cocoons like a butterfly.
"That's what we see in you all," Royston said. "We see brightness. We see ability."
St. Louis Public Schools will host an asthma information session in conjunction with the city's health department from 6 to 7 p.m. on May 12 at Walbridge, 5000 Davison Avenue. The focus will be on environmental triggers in the home that cause asthma, a school district spokeswoman said. In the past, such training sessions have been poorly attended.
Too many parents don't pay attention to asthma, said Michael Davis, Mia's father.
"Hopefully they'll learn now."