Mothers and Others for Clean Air joins forces with the CDFF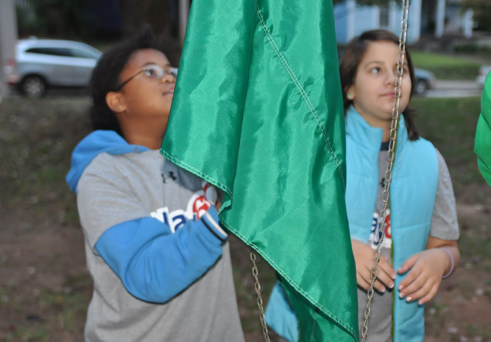 Mothers & Others for Clean Air joins forces with the Chris Draft Family Foundation's "Winning With Asthma" and "Let's Read, Let's Move" programs at Atlanta Neighborhood Charter School
Courtesy of the Mothers & Others For Clean Air website
From Mothers & Others for Clean Air… One of the nice features of the Air Quality Index flag program is that the flags fly daily, providing the opportunity to encourage children to be physically active outdoors on "green days."
Mothers & Others for Clean Air is teaming up with NFL-veteran Chris Draft's asthma, literacy and physical activity outreach efforts to promote proper asthma management and sensible steps to reduce exposure to outdoor air pollution and other asthma triggers when being active. On October 13, sixty-six third graders spent 90 minutes developing a deeper understanding of the importance of the AQI flag program, learning how to reduce exposure to air pollution and other asthma triggers by being active in the morning or indoors (ANCS has a great yoga program) on "code orange" days, learning how to listen to their bodies and support friends with asthma, and finding out about lots of fun ways to get in their "Play 60" daily for good health. Check out the fun in our photos, and contact Mothers & Others for Clean Air if your school would like to host this program!
For more information about Winning With Asthma see the Chris Draft Family Foundation Asthma Team web page.
View the NEW Chris Draft/EPA PSA video about asthma.
Students learn how paying attention to the flags helps them reduce their risk, just like wearing a bike helmet reduces the risk of injury when they ride. One student tested his lung function before and after the "Play 60" activities to help students understand how outdoor air quality can affect lung function.
Chris Draft also read a book about managing asthma and participating in sports, then led the students outdoors for fun fitness and agility exercises.
For more great photos view Chris Draft's slideshow.