"Do You Want To Play Catch?" Echoes The Sentiments of September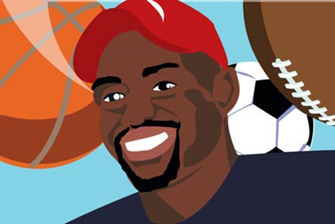 Playing catch was more than just sport for Chris Draft, it was a means of staying active, engaging with family and embracing the best parts of life. Now, author Chris Draft has turned his life into a children's book that echoes the idea of reading, learning and fellowship. With September serving as both National Literacy and National Childhood Obesity month, it is the perfect time to purchase "Do You Want To Play Catch?" for a young person in your life.

"I wrote this book to accomplish multiple goals," said Draft, a 13-year NFL veteran. "My life was defined by family. We would actively engage in dialogue while playing catch or shooting hoops. We stayed physically, mentally and emotionally healthy because of the constant conversation and physical activity."

The Chris Draft Family Foundation has worked diligently to combat the epidemic of childhood obesity through innovative programs like the Get Checked, Get Fit™ national family initiative. "Fitness for us is 365 days a year," added Draft. "We have to work with individuals, youth and families throughout the year to change behaviors and lifestyles."

President Barack Obama recently highlighted the issue of childhood obesity during a special proclamation ceremony.

One of the greatest responsibilities we have as a Nation is to safeguard the health and well-being of our children. We now face a national childhood obesity crisis, with nearly one in every three of America's children being overweight or obese. There are concrete steps we can take right away as concerned parents, caregivers, educators, loved ones, and a Nation to ensure that our children are able to live full and active lives. During National Childhood Obesity Awareness Month, I urge all Americans to take action to meet our national goal of solving the problem of childhood obesity within a generation.

Literacy also is a high priority for the pro football player. "When I heard the staggering statistics of how youth are adversely affected academically by not staying engaged in mental and physical activities through the summer months, then I knew something had to be done," said Draft who recently was honored in Washington, D.C. for his work in the area of literacy. "I am diligently working to get books in the hands of young people so we can effectively combat learning inactivity during these summer months. I know that by putting a book in every child's hands then we are giving them a hand to be the best that they can be in life."

To purchase "Do You Want to Play Catch?" visit our website.
To check out literacy games and activities to help you celebrate National Literacy Month, visit OpenBooks.org's website.