Foundation Partners with BGCA for 'Waiting for Superman' Town Hall Meeting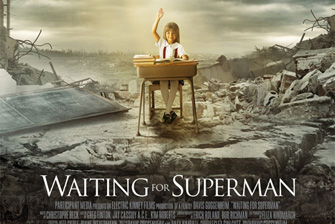 Story Courtesy of The Boys and Girls Clubs of America
The Chris Draft Family Foundation and the Boys & Girls Clubs of America (BGCA), in partnership with Participant Media, hosted a Town Hall meeting to further community engagement in the ongoing conversation about the educational issues highlighted in the critically-acclaimed documentary, WAITING FOR "SUPERMAN." Community partners with top local and national education, business and government leaders agreed that community linkages are critical to solving America's education crisis.

"Partnering for Change: The Role of the Community in Improving Education for All Children," included compelling clips from the film and a discussion focusing on the importance of community involvement in working to provide every child a great education.

Moderated by Southeast Regional Director of the Anti-Defamation League, Bill Nigut, the panel participants included; United Way of Metropolitan Atlanta President, Milton J. Little; Boys & Girls Clubs of America President and CEO, Roxanne Spillett; National PTA Community Development Specialist, Elida Perez-Knapp, and KIPP WAYS Academy 7th Grade Chair, Joseph Edelin.

Additionally, Boys & Girls Clubs of America's former National Youth of the Year, Demetrice Tuttle, shared his insights on the need to include community organizations in the education equation, and veteran NFL linebacker turned philanthropist, Chris Draft spoke about the critical need for positive role models for African-American males to help close the academic achievement gap rampant among minority youth.
RELATED MEDIA:
Hear Chris talk about the event on V103 Radio in Atlanta!
Hear Chris Discuss the event on Atlanta's WAOK Radio!

"We must engage the entire community to solve this education crisis. Schools of course play a key role in what we call the 'education equation,' but they're not the only piece," said BGCA President and CEO Roxanne Spillett. "Parents and family members also play a key role, but a key piece of the equation is the multitude of excellent community organizations across the country that can serve as partners. They can provide access to programs and resources that our young people need to succeed."

Spillett added: "WAITING FOR "SUPERMAN" illustrates poignantly the connection between the state of education in our country and the future prosperity of America."

"The work being done by Boys & Girls Clubs provide vital programs for young people and underscore the film's message of the value of education in every child's life," said Jim Berk, CEO, Participant Media. "We are thrilled to partner with them on this event and provide a platform to further engage communities in demanding the highest quality education for all children."

Building on the attention WAITING FOR "SUPERMAN" continues to generate, the Town Hall events are part of Participant Media's ongoing social action campaign for the film and are aimed at engaging local leaders, policy makers, educators, parents, students, interfaith leaders and key stakeholders in dynamic discussion on education reform. Slated to continue through early 2011, Town Hall events are planned for 20 cities nationwide with the goal of inspiring action and building coalitions on a local level by providing opportunities to learn and share information, experiences and perspectives on key educational issues. The Town Hall events are made possible through generous support by the Einhorn Family Charitable Trust.

Attendees were given the opportunity to submit questions for the community discussion and were provided with materials outlining actionable steps they can take to promote the goal of ensuring that every child receives a great education. For more information, please visit www.waitingforsuperman.com/action.