CDFF Attends Target Library Makeover; Make-A-Wish Foundation Events Friday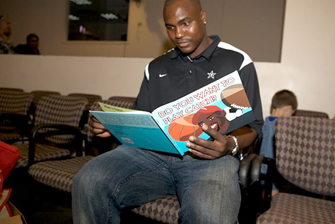 DALLAS - Carrying the Chris Draft Family Foundation's (CDFF) focus on education to the Super Bowl, CDFF will join forces with the NFL Players' Association and the Heart of America Foundation and Target for a Library Makeover at George Peabody Elementary School in Dallas, home of Super Bowl XLV, on Friday, February 4.

As part of the library makeover event, CDFF Founder Chris Draft will be on hand to donate two copies of his children's book "Do You Want to Play Catch?" to the library, as well as talk with NFL fans about the importance of education and spread the message of the Literacy Leaders initiative.

Draft will join Denver Broncos tight end Dan Gronkowski, his brother and Dallas Cowboys fullback Chris Gronkowski, their brother and tight end for the New England Patriots Rob Gronkowski, Cowboys wide receiver Dez Bryant, former defensive back John Booty, former Washington Redskins linebacker Ken Harvey, former Redskins defensive back Scott Turner, former Los Angeles/Oakland Raiders defensive lineman Nolan Harrison, former Running Back Patrick Jackson and former Seattle Seahawks defensive back Rafael Robinson at the event.

"The foundation is committed to reminding students, parents and their communities that improvement comes from small changes," Draft said. "Reading 30 minutes extra at night during school and reading five books over the summer can completely change a students' performance in the classroom. So let's read 30 and make a difference."

Also on Friday, the Chris Draft Family Foundation's Character Team will honor some of the highest character people in the country when Founder Chris Draft joins youth from the Dallas-area Make-A-Wish Foundation for a tour of Cowboys Stadium before the Super Bowl takes place there on Sunday.

Draft, along with several other NFL players, will have the opportunity to visit with the youth as they take a tour of the site of Super Bowl XLV. Draft and the players will then accompany the youth to the NFL Experience at the Dallas Convention Center.

Follow CDFF through these education events this week through Facebook, Twitter or right here at chrisdraftfamilyfoundation.org.