CDFF Tackles Literacy in Celebration of Read Across America Day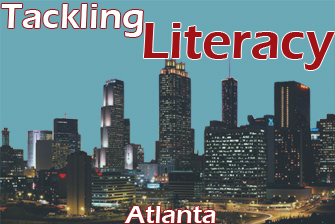 The Chris Draft Family Foundation (CDFF) is celebrating Read Across America Day on March 2nd by joining current and former NFL players to Tackle Literacy in Atlanta. Literacy is the cornerstone of education, and CDFF knows that if a student simply reads an extra 30 minutes each day, their learning ability will increase dramatically.

To spread this message of Tackling Literacy, CDFF has joined with Buffalo Bills Safety Bryan Scott and former Atlanta Falcons linebacker Dewey McClain to make a visit to Norcross Elementary School on March 2 from 9:30 – 11:00 a.m. Scott, McClain and CDFF Founder Chris Draft will spend time reading to the elementary school students from their favorite books, including Draft's children's book "Do You Want to Play Catch?."

Following the event at Norcross Elementary, Draft will lead a group of students from Clark Atlanta University to Bethune Elementary from 12:30 p.m. – 2:00 p.m. The Clark students will also have the opportunity to read to the youth from the elementary school and talk to them about their favorite books. CDFF will also donate two copies of "Do You Want to Play Catch?" to each school's library following the events.

"What's special about these events is that we're not only showing these kids why reading is important, but helping them develop a love and a passion for reading," said Chris Draft, CDFF Founder and President. "That's the reason I wrote my children's book, 'Do You Want to Play Catch?', to help children really learn to love reading."

The NFL players and Clark students will also have the opportunity to read from the works of Dr. Seuss, who would have celebrated his 107th birthday on March 2, 2011.

Follow CDFF through these events on Facebook, Twitter (@EmpowerFamily) or right here at chrisdraftfamilyfoundation.org.