Atlanta's Norcross Elementary Celebrates Reading, Dr. Seuss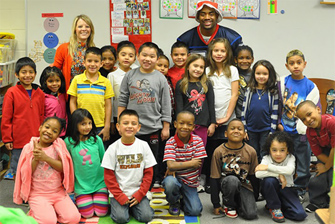 Story courtesy of the Gwinnett Daily Post
Read Across America Day is an annual event sponsored by the National Education Association honoring children's author Dr. Seuss' birthday.
At Norcross Elementary School, Redskins linebacker and children's book author Chris Draft read to the kids. Retired NFL players Dewey McClain and Solomon Brannan also visited the school.
"I think our kids saw the real importance of reading and getting those reading skills down, not just for testing, but for life," said Kenya Johnson, an assistant principal at Norcross Elementary.
Duncan Creek Elementary School emphasizes reading every day, but on Wednesday, the focus was especially celebratory because it was Read Across America Day.
"We celebrate Dr. Seuss' birthday to honor the great work that he did," said Melanie Mount, the school's literacy coach. "What child has learned to read without Dr. Seuss being part of their life?"
During the school's day-long celebration, parents and community members read Dr. Seuss books and other favorites to students in kindergarten through fifth grade.
"We wanted to make a really big deal with the kids to celebrate reading and bring in lots of community role models, especially dads, to show reading is important," Mount said.
Washington Redskins cornerback DeAngelo Hall, whose son attends Duncan Creek, talked to students about the importance of education before reading aloud Seuss' "If I Ran the Zoo."
Hall told the students he studied education at Virginia Tech and planned to be a school teacher before he was drafted by the Atlanta Falcons. The importance of education was something that was instilled in him at a young age, he said.
"Reading is something you will always use," he said. "You use it every day, whether it's reading a letter from a friend ... or whether it's reading instructions on how to do something.
"Anytime you have an extra second in the day, just pick up a book."
Atlanta Falcons kicker Matt Bryant, who has three children at Duncan Creek, also read books to students. His first choice was "The Foot Book."
"Obviously, being a kicker, I know a little bit about feet," he told the children. "Me and Dr. Seuss have bonded."
Bryant said he gets a lot of practice reading at home to his 4-year-old, but Wednesday was his first time reading at a school.
"I'm just like anybody else. My job just happens to be highly thought of by most," he said. "Anytime I can get out and make a difference, I'm more than happy to do that."
It wasn't just professional athletes who read to kids in honor of Read Across America. In the Dacula cluster, 30 high school football players visited three elementary schools — Dacula, Mulberry and Alcova — to read to students, coach Jared Zito said.
"They did a great job, and the little guys and girls were so excited to our guys," he said.