Foundation Uses Skype to Enhance National Literacy Movement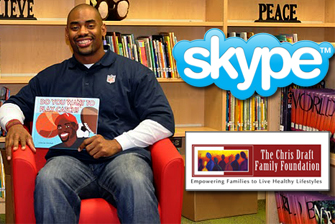 The Chris Draft Family Foundation's Literacy Leaders initiative is a national movement geared toward increasing literacy at schools across the United States. Founder Chris Draft and the foudation staff and board members make it a point to read with as many students as possible, and using Skype technology, the number of students becoming Literacy Leaders has increased exponentailly.
Starting on May 3, Draft began reading to students across the United States via a laptop with a Skype connection. On May 3, he was able to read to fourth and fifth gade students at Ritchie Park Elementary in Maryland from the CDFF Offices in Atlanta.
Following the chat with Ritiche Elementary students, Draft read to students from Chicago's Melody Elementary as part of the Windy City's Real Men Read program. Draft read exerps from Wes Moore's novel, The Other Wes Moore, and spoke with the students about the importance of reading an extra 30 minutes per day to stay ahead of the game.
Skype technology allows people to video chat using simply a computer with a webcam and an internet connection. The video-chat technology will allow the foundation to truly create a nationwide Literacy Leaders initiative.
How are you helping students keep up with reading? Tell us your story now!