Board Member Kadar Hamilton Takes Literacy Leaders to Tucson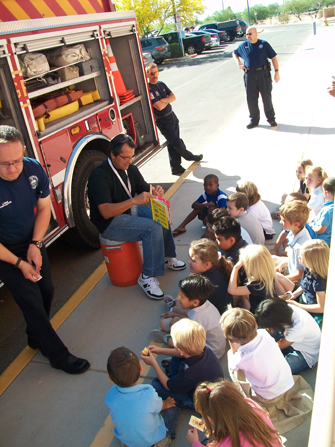 The foundation's literacy leaders initiative is a national movement making literacy important to students and parents alike. Foundation board member Kadar Hamilton has taken the initiative to Tucson, Ariz., where he is leading the Real Men Read Campaign in partnership with All Pro Dads.
"All Pro Dads is an organization charged with encouraging men to be better dads and role models for their kids and kids in the community," Hamilton said. "I saw Real Men Read as an extension of our efforts. So often, men are not seen as part of our children's up-bringing; and any limited interaction is confined to a ball field. Real Men Read presents an outstanding opportunity to put Men back in the schools."
On May 6, Hamilton and volunteers from the local fire department headed to Ariza Trail School for a day of reading with dads, setting a positive example for the students.
"Our teachers and students loved having the Real Men Read program come to Anza Trail," said Clarisa Nido, Assistant Principal of Ariza Trail School. "This initiative brought positive examples to young students. They loved hearing the stories, interacting with the firemen, and more importantly, seeing real life role models. We can't wait to have Real Men Read back at Anza."