Draft to Asthma Sufferers: You Can Play Football!
May 19, 2008
---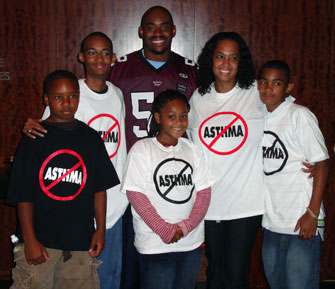 NFLPA.com

Chris Draft, outside linebacker with the St. Louis Rams, has one message for kids with asthma who want to play football: "You can do it."

Draft, who has had asthma since his college days at Stanford University, said the typical image of a child suffering from asthma is "a kid sitting in the corner, struggling. Not someone on the field, excelling." To help redefine that image, Draft has used his position as a professional athlete and his decade of experience in the NFL to educate parents and kids about coping with asthma and still pursing dreams—whether it's football or Frisbee.

"I want to inspire kids out there who have asthma," Draft said, "and really help the parents feel like they don't have to just hold their kids back. They may have days when they're not doing so well, but I don't want parents to be afraid of letting them do anything." Draft said if a child with asthma plays football, the parents should talk to the coach beforehand about what the child needs (such as an inhaler that's ready to grab). "Other than that," Draft said, "just go play some ball."

In April, the Environmental Protection Agency launched a Missouri Public Service Announcement Campaign called "Childhood Asthma—Even One Attack is One Too Many," featuring Draft. The campaign focuses on educating parents of children with asthma in Missouri about specific asthma triggers and how they can help eliminate them.

Earlier this month, Draft visited Washington, D.C. to take part in the National Asthma Forum: Communities in Action for Asthma-Friendly Environments. At the conference, Draft shared his personal experience with asthma and talked about how he was inspired to create the Chris Draft Family Foundation's Asthma Team.
The foundation educates families across the country about managing asthma and preventing attacks. Draft personally congratulated the winners of the 2008 National Environmental Leadership Award in Asthma Management.

Each year in the United States, asthma accounts for nearly 13 million missed school days and more than 4,000 deaths. Draft said there are more school days missed due to asthma than any other chronic disease.

Since Draft didn't have asthma as a child, he said his situation was very different from those who have faced childhood asthma.

"It's a totally different level of impact on the family when you have a child with asthma," he said. "I just want to
bring awareness and increase our level of management [of childhood asthma]. When you're able to manage your asthma
better, there's less chance that you're going to be in the hospital and the bills will pile up."