LB Does Double Duty on 'Draft Day'
May 30, 2008
---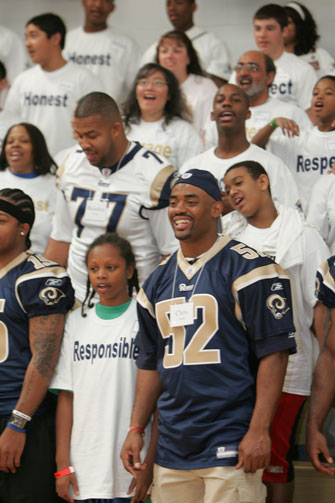 By Brett Grassmuck Staff Writer
stlouisrams.com

Weeks after the Rams closed the books on the 2008 NFL Draft, another Draft was taking place inSt. Louis, Rams linebacker Chris Draft's Draft Day, which honors and educates the young leaders of the St. Louis community.

"We wanted to get a diverse group of leaders, ambassadors, from all around the city that were coming together and were committed to making St. Louis healthier," Draft said.

And that's exactly what Draft and his Chris Draft Family Foundation did. They "drafted" young ambassadors from various local community groups to attend a Draft Day event with their families, which focused on teaching both kids and parents how to lead healthier lives and pass that knowledge on to others in their community.

"What we wanted to be able to do was create the optimum learning environment," Draft said. "If we talked about nutrition to the youth without involving the parents, the parents are the ones that buy the groceries. Their parents are the ones that would be taking them to McDonald's because they're the ones driving. I felt like to be able to truly educate, we have to involve the parents in the process. We're really focusing on the fact that the kids have choices, and they can help in that process, but really empowering the parents with the kids is key to making a difference."

If you know anything about Chris Draft, you know that his motor never stops, especially off the field. He is committed to making a difference, and he's willing to listen and work with any group that shares his vision.

Throughout the course of last season, Draft's first in St. Louis , he was able to work with a variety of local community groups, which is where he went to find his youth ambassadors. He contacted community groups that stuck out to him and asked that they send their best kids, their leaders, and the families of those kids to the Draft Day event.

"(For kids to be "drafted,') they have to stand out to their organizations," Draft said. "When we do Draft Day, I'll invite the community groups that really stood out, the kids that really stood out from that community group."

The Draft Day event took place at the Herbert Hoover Boys and Girls Club on Saturday, May 17. Draft wanted the event to focus on not only teaching the kids about health and nutrition, but how to become the best type of man or woman they could become and how to spread that knowledge throughout their community.

To aid him during Draft Day, Draft brought along several of his teammates and coaches including offensive linemen Brandon Gorin, Nick Leckey, Brett Romberg and Mark Setterstrom, defensive lineman Victor Adeyanju, safety Eric Bassey, linebacker Quinton Culberson and wide receiver Marques Hagans, as well as defensive line coach Brian Baker, special teams coach Al Roberts and running backs coach Art Valero.

Draft and his teammates and coaches played and exercised with the kids, but also spoke to the boys in the crowd during what he called the "just us guys" session.

"They're out on the field running around, and we had them inside with Hops Sports moving around, but in between that, we talked about goal setting and what it takes to be a good man and woman," Draft said. "The "just us guys' session was actually led by Rams players talking about more than just their football experience, but what it has taken for them to become that man that is playing football."

Conversely, there was a "girl talk" session led by Rams cheerleaders Angeline, Ciara and Megan B., where the girls in the group were able to talk about becoming the best woman they could be.

"Girl talk was the session with our cheerleaders, who are amazing," Draft said. "It's unfortunate that most folks, all they do is just see these ladies out there dancing. They're women in this community that are making a difference, and they just choose to dance. They love dancing. They love performing, but they either have another job or they're going to school. So it's important for the girls to understand that there are certain things you love doing, but they don't always pay, but that doesn't mean you can't do them. You have to pay the bills, but you can still do things that you love doing."

If you thought a day filled with indoor and outdoor exercises as well as nutrition and character lessons would be enough for one day, then you don't know Chris Draft.

When the Draft Day event had ended, Draft and his group packed up any leftover box lunches and headed over to Barrett Brothers Park where the Rams linebacker led another trash cleanup. The trash cleanup was a follow-up to a cleanup event Draft held at Barrett Brothers Park last September.

"It's amazing when you can see the difference," Draft said. "There was far less trash. The grass from the houses around the park was more manicured. It wasn't like it was a complete transformation, but a very big difference."

Draft's first cleanup event at Barrett Brothers Park was a response to the shooting death of police officer Norvell Brown. It was Draft's way of sharing his belief that if you do something as little as picking up a piece of trash, you can make a difference.

"When we talked about picking up trash last year after the officer had been shot by a 14-year-old, I think there were a lot of people that were like "an officer got killed, and you are picking up trash,"' Draft said. "There were probably a lot of people that couldn't exactly understand that. We have to make a difference somewhere, and when you start to reject things that are negative in your community, one of the biggest things that shows that is (picking up) the trash on the ground."

Draft knows what he wants to accomplish as a professional athlete. Sure he wants a Super Bowl ring just like everyone else, but he also wants to change the world, whether it's educating kids on becoming better adults or simply picking up a piece of trash.

"There's so much we can do as football players, so much influence, but we have to be clear on our message," Draft said.