The Power of Sports
June 17, 2008
---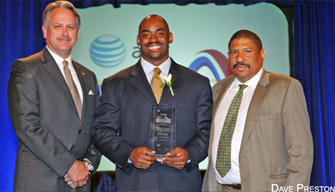 By Brett Grassmuck / Staff Writer
stlouisrams.com

Rams linebacker Chris Draft was honored to receive an award at the National Sportsmanship Awards banquet put on by the St. Louis Sports Commission. But it was the idea and emotion of the night that excited him more than anything.

"It was great, we need more of it," Draft said of the banquet. "I hope people weren't surprised by what these athletes did. I hope they were like "yeah, I know that can happen.' It really shows how sports give you the opportunity to do great things all the time, and it's really about taking advantage of that."

Draft is known for being a versatile linebacker. He backed up all three linebacker spots for the Rams and will likely start on the strong side this season. He loves the game of football, but his passion lies outside of it.

He's been involved in the St. Louis community since he set foot in the Gateway to the West from picking up trash in a local park to hosting football camps and attending numerous other charitable events.

It sounds like a broken record. You've read this before, and this writer has certainly written it before. But the National Sportsmanship Awards embody everything Chris Draft preaches in his off-the-field undertakings. He understands the power and impact that sports can have.

That's what the National Sportsmanship Awards are all about. Annually, the St. Louis Sports Commission finds the nation's, not just St. Louis', but the nation's best sports at every level and brings them together in a night of recognition for the good guys.

Every year there are phenomenal stories of sportsmanship all across the country, and this year was no exception. There was the Edwardsville, Ill., high school wrestling team that was headed to the state championship. After realizing a scoring error in the match that sent them to state, Edwardsville coach Jon Wagner had the match overturned and Granite City High School headed to the state title match instead.

"That's what the award show gets to show," Draft said. "It's a wrestling team that recalculates the scores and ends up losing. What I told them is they have a chance to now be an example in that city for a long time. There are going to be parents that tell their kids "you need to do the right thing, just like that wrestling team."

There were the Central Washington University softball players. After Sara Tucholsky, a Western Oregon University senior, hit the first home run of her career, she was so excited she forgot to touch first base. As she turned to go back to the bag, her knee gave out and she would be unable to finish rounding the bases. If she was touched by her teammates, she'd be called out. If the coach elected to use a pinch-runner, the home run would not count.

Central Washington first baseman Mallory Holtman and shortstop Liz Wallace wouldn't allow that to happen. They picked Tucholsky up and carried her around the bases, allowing her to touch each bag with her uninjured leg. Tucholsky and Western Oregon went on to win 4-2 and claimed a NCAA Division II postseason berth.

"The ladies that played softball, they were so excited," Draft said. "It was great talking with them because what they said was really touching their heart was little girls recognizing them now and having a totally different feel for the game because they saw what the ladies did. It just opened their eyes."

Then there was Draft, who has played on several different teams in his NFL career, each time reaching out to the city he called home. Draft is still involved in the Atlanta and Carolina communities, along with doing as much as he can for St. Louis.

He appreciates the recognition the St. Louis Sports Commission has given him, but what excites him more is what it means for his future endeavors.

"It's definitely great being able to be recognized for the work you're doing, but what it does is brings awareness to what you're doing and gives us a chance to make more of an impact going forward," Draft said. "That's the exciting part for me. It's exciting for people to see what we're doing and get more folks aware of it."

The power of sports is something Draft strongly believes in, and he preaches it everywhere he goes. He's often seen roaming the hallways of the Russell Training Center in a t-shirt that reads "self-discipline," one of several shirts he distributes to the community featuring words and phrases essential to character development. For Draft, participating in sports is more than just winning championships, it's about becoming the best man or woman you can be.

"It's one of those situations where I'm not surprised by the impact of sports and the opportunity to make a difference and do something amazing," Draft said. "It's definitely great to see all these folks doing these things. I got the chance to see 30 or 40 athletes change over a season when I was working with the Challenger League (a football league for disabled children) in Carolina. One of the kids said, I am going to walk up at the end of the year banquet without my cane. I'm going to walk up and shake Mr. Draft's hand without my cane.'

That's exactly what he did.

"I've seen what sports can do when you stop just looking for a win and a loss. When you stop looking at wins, losses and ties, and you really look at sports for what it is, it's amazing. The Sports Commission sportsmanship banquet showed a nice glimpse of the possibilities."

Don't get him wrong, Draft wants to win a Super Bowl, but he realizes that careers in the NFL are significantly shorter than those of the average working person, and he wants to make as much of a difference as he can while he has the opportunity.

"Opportunities like that happen when we stop just focusing on wins and losses," Draft said. "We're definitely going to compete, and we want to win. We're going to keep score, and we want to win, but on the way to winning, we can't lose sight of all the great things that happen."

An NFL linebacker may not be the ideal candidate to change the world, but Chris Draft is certainly going to keep trying, one community at a time.