Billboards Give Heads-Up to 'Beautiful Sport'
June 22, 2008
---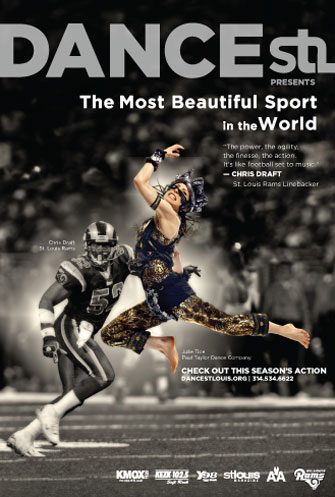 BY Joe Holleman
stltoday.com

Duncan-to-Ailey-to-Baryshnikov may not be a famous double-play combination, but no one can deny that ballet dancers have an abundance of athletic ability.

The latest marketing campaign for Dance St. Louis will highlight that fact, calling ballet "The Most Beautiful Sport in the World."

Three new billboards featuring dancers who will perform this season with Dance St. Louis will make their debut this week. The dancers will appear alongside local athletes Rick Ankiel of the Cardinals, Chris Draft of the Rams and Jamal Mayers, recently traded from the Blues to Toronto.

The Ankiel board will be at Interstate 44 at Big Bend Road; Mayers, at Interstate 55/70 at Pennsylvania Avenue in East St. Louis in Illinois; and Draft, at Interstate 70 and Natural Bridge Road. For more information about the upcoming dance season, got to dancestlouis.org.