Returning the salute: Former 'Pendleton Kid' Draft gives Back
June 30, 2008
---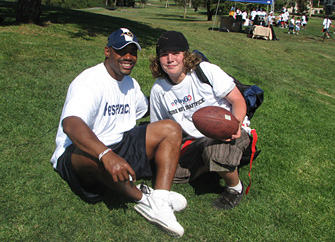 By JAY PARIS - Staff Writer
North County Times

LA COSTA - Chris Draft's hands are full. Of course, that's what happens when you conduct a football clinic for some 200 Camp Pendleton youngsters, as Draft will on Tuesday.

Luckily, the St. Louis Rams' veteran linebacker is at ease. He's keen on football and what it means to be a CPK ---- a "Camp Pendleton kid."

"My dad was stationed there for three years," Draft said.

The massive Marine Corps base is worlds away from the tony La Costa Resort and Spa. But the CPKs and the posh resort will come together this week at the NFL's annual rookie symposium, which gathers the league's 252 draft picks to educate them about life in the NFL.

Tuesday isn't all classes and lectures, though. Someone will connect Draft, the CPKs and some footballs on the South Course's No. 1 fairway ---- a combination that should produce an ace of an afternoon.

Draft knows the CPKs can use a breather from reality. It's a reality that has a parent ---- maybe two ---- deployed overseas, that asks the CPKs to sacrifice family time in the cause of protecting America.

"My dad is a Marine, and my brother was in the Navy for a little bit,'' said Draft, the Rams' second-leading tackler in 2007. "I was lucky because my dad missed Vietnam by a couple of years and my brother was in just after Desert Storm ---- but you never know, and that is why I am so appreciative of what these servicemen are doing.

"When the NFL told me about (the clinic), I was excited to hear it was bringing in some Camp Pendleton kids, because my dad was stationed there ---- that could be me and my brother.'

"Oh brother, the NFL could use more men like Draft.

While headlines go to knuckleheads like Michael Vick and Adam "Pacman" Jones, Draft is more deserving of the spotlight.

"He's an awesome guy,'' said Mike Haynes, the NFL's vice president of player and employee development and a Pro Football Hall of Famer. "In St. Louis, when it had a super-hot summer last year, (Draft) went around with a bunch of teammates and passed out water to those in the inner city. He was out there spending his own money to do it."

Draft gets repaid Tuesday ---- with grins from the CPKs.

"What we are trying to do is to bring some levity, some excitement, some smiles into their lives,'' said Draft, an 11-year pro. "We have a chance, by having a camp, to be able to talk to the kids. It's an amazing opportunity to maybe change their lives because it's a challenge to be a military kid. Maybe it's just by playing catch ---- something no different than what I did when I was really young and my dad was a Marine."

Chris' dad is former Marine Tony Draft. Scratch that ---- "Once a Marine, always a Marine,'' the elder Draft said.
Tony is lending his son a hand at the clinic while extending one to those whose parents give so much.

"It's a thank you in that we know what you are doing," Tony said. "This is one way in giving the kids a day out not to think about what is happening to Mom and Dad.''

Tony is Marine-proud of Chris.

"He wants to be involved in the NFL, but also be involved in catching the kids early,'' Tony said. "Every kid you can save, that is one more profitable and healthy adult, and those are the type of things he wants to work on: Empower the child, empower the family, empower the community. As a so-called celebrity, Chris could be here today and gone tomorrow. But what he is doing will last."

Like Tony's recollections of a pint-sized Chris crawling around Camp Pendleton. Well, kind of.

"That's been 30 years, so my memory is a little foggy,'' Tony said.

Expect nothing but blue skies Tuesday, as the CPKs hang with Draft. Just consider it a return salute from a grateful ex-Camp Pendleton kid.

Contact staff writer Jay Paris at jparis8@aol.com.