Camp Grind Brings Few Signature Moments
July 30, 2008
---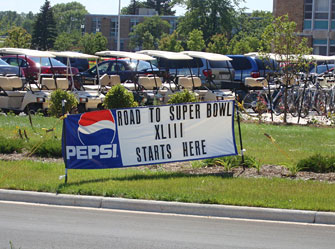 By Bryan Burwell
ST. LOUIS POST-DISPATCH

MEQUON, Wis. — In the late afternoon, the little boys begin to make their moves. Just outside the gates of Century Stadium on the asphalt ramp that leads the Rams players on the long walk from the practice field to the training camp locker room, the boys strategically stake out their positions like hunters on a safari.

With a Sharpie in one hand and just about anything that has a flat surface for autographs clutched in the other, the boys reach over the fence or slip under the giant wooden barricades waiting for a player to walk by and make their day.

The kids try bluntness.

"Hey 72!! Sign this!!" They try politeness. "Ooooooh, oooooh, ooooooh, Mr. Holt, sir. Can you pul-eeeeze sign my jersey?"

They try flattery. "Hey Marc, Marc, Marc! Over here! You're my favorite player."

And when words won't do, some youngsters use the fail-safe staple that involves an innocent-looking 6-year-old just standing there looking like a lost little puppy in search of a sympathetic pat on the head.

If there is any hint of romance in the grinding, tiring and violent world of an NFL training camp, this is it; the kids with their wide-eyed enthusiasm and unfettered hero-worship. It's probably why so many of the Rams players dutifully stand there forever signing every bit of memorabilia shoved in their faces even after exhausting two-a-days.

The rest of the time is a repetitious "Groundhog's Day" existence of playbooks and ice packs,
practices and meetings. "You can dress it up all you want, change the scenery every day," linebacker Chris Draft said. "But what training camp comes down to for the players after the first day is nothing more than a field, a bed, meeting rooms and food."

There's more to it than that, of course. But once the grind begins with early-morning breakfast, trips to the training room, two-hour morning practices, lunch, nap, training room, another practice, dinner, late-night meetings, late-night snack, curfew and more sleep, it feels like a recurring dream/nightmare.

"The (lakefront) view's great, but it ain't much to me after the first day," said defensive end Leonard Little. "All I care about now is how quickly can I go back to my room and sleep."

Training camp veterans know what this grind can do, mentally and physically. By Monday afternoon, if you looked across the practice field, you could see tight end Anthony Becht walking around in his bare feet in full uniform with bandages on both his big toes, plus a wrap on his tender hamstring muscles. Safety O.J. Atogwe had an ice pack on his left knee. Cornerback Ron Bartell's leg was wrapped in ice and bandages. Draft was seen leaving practice early with a grimace on his face, an ice pack tucked in his shorts, and an electric pain shooting through his neck and back.

"It's the dreaded fourth day of camp," head coach Scott Linehan said. "These are the fatigue injuries, usually about this time you start getting those kinds of things."

Training camp usually begins with the initial excitement or anxiety that comes from weeks of waiting for another season. Rookies can't wait to get on the field and have their NFL dreams begin (some will see them turn into nightmares).

Veterans take a more pragmatic approach. Most of the Rams vets were thrilled to escape the suffocating heat and humidity of a St. Louis summer. "It gets so hot in St. Louis during training camp that no matter how hard you're trying to concentrate on a new play or a new scheme the coaches might be installing, it's impossible to not be distracted," Draft said. "You're standing there sometimes and you're thinking 'Gawd, is it realllllly this hot? ... Ohhhhh, what did (the coach) just say?' But up here, you never think about the heat. That's a huge advantage."

Afternoon practice had ended awhile ago, and Draft was about to go cruising back to the dorm on his rented mountain bike. The sun was dipping down below the tall green pines that lined the practice field, and for the first time all day his back muscles weren't having spasms. It seemed like the perfect time to ask the question.

So what's the best part of training camp?

"Hmmpf," he said, amused. "Well when you're in it, it's hard to think that there's any time good about it. But every once in a while, there's a moment when you're on the field and there's a play or a series of plays where everything clicks. You see the linebackers and defensive backs just flow to a play, and without any verbal communication, something beautiful happens and you just know, 'Yeah man, we're on the same page. We got this.' Yeah, there ain't much beauty in training camp, but that's as sweet as it can get."