Rams "Cool Zones" A Hit During Summer Heat Wave
August 24, 2007
---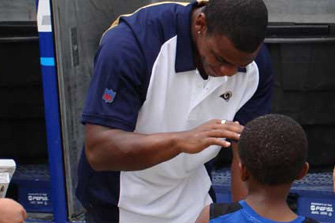 By Evan Ardoin
Stlouisrams.com
On Sunday, August 19th, St. Louis Rams linebacker Chris Draft and some of his teammates set out to beat the heat in the city.
Draft and his teammates are no strangers to the soaring temperatures and brutal humidity that have gripped the area during this summer's heat wave. Practicing twice a day throughout an NFL training camp can make a guy thirsty, so Chris and his teammates decided to make a few visits in the community to spread the good word about hydration in the summer heat.
The Missouri-Illinois Dodge Dealers and Aquafina courtesy of Pepsi teamed up with the Rams to bring "Cool Zones" to the St. Louis community. Riding in trucks supplied by Dodge, the Rams players visited two parks and a neighborhood children's event. The theme of the appearance was hydration, as the Rams passed out ice-cold bottles of Aquafina water courtesy of Pepsi.
Chris and fellow linebackers Jon Alston, Jamal Brooks and Quinton Culberson attended along with safety O.J. Atogwe, defensive lineman Alton Pettway and running backs Brad Lau and Travis Minor.
The community welcomed the appearance by the players, turning out in force to hear the message about hydration, get autographs and take pictures with their favorite St. Louis Rams. Stops on the hydration tour included Fairgrounds Park, 20th Street and Forest Park where the Rams players distributed bottles of water to golfers and soccer players.