Home Depot extends helping hand to IYA
October 25, 2008
---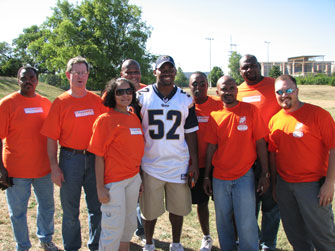 By Dennis Barnidge
SUBURBAN JOURNALS
The outlook for the Imperial Youth Association wasn't particularly positive early in the summer. Rock Creek was up, way up, and hopes were down, way down.
Barely recovered from May floods that blasted the IYA's 18-acre facility on Highway K, youth association officials again were ankle deep in flood water. Then, as the flooding continued, they were calf deep, knee deep, hip deep, etc.
The IYA's darkest hour produced a spark that likely will light the way toward the 2009 season. Early in the summer's month-long flooding headache, then-president Cheryl McClain began asking area and regional businesses to lend the youth association a hand. In a desperate-times-call-for-desperate-measures moments, she fired off notes and snapshots of the association's damages facilities to businesses large and small across the area and region.
"For days, I sent things out. I must've sent out over a 100 requests," McClain said.
Most businesses didn't have time or money to spare. Most, but not all.
McClain's letter and the IYA's situation landed on the right desk at Home Depot. The hardware giant's Arnold store and officials at its regional level liked the IYA's moxie. Joe Stockman from the Arnold Home Depot got involved. Kim Steel from the regional operation got in touch with the IYA. Home Depot officials visited the facility. They liked how the IYA had battled through five blasts of flooding, including a month-long knockout blow in June and July.
This week, Home Depot will reach out to the IYA. Tuesday, Home Depot will deliver approximately $9,000 worth of materials and a small army of Home Depot employees to put a shine on a facility that could use a bit of polish.
The St. Louis Rams also have committed to lend a hand. Linebacker Chris Draft will stop by the project on Tuesday to sign autographs and deliver some Rams souvenirs.
McClain said the door is open to any area handymen (and handywomen) who want to help with the project. Work is scheduled to start at 8 a.m.
The day's to-do list includes building a concession stand and bleachers, installing a couple equipment sheds and a generator, reworking fencing, repairing dugouts and generally cleaning up signs of a brutal run of bad luck.
That list is an indication of how much damage the spring and summer rains and floods did at the facility.
"We got rained out of everything," McClain said.
There was no avoiding the gloom that touched almost everyone connected to the league.
"It was a bad year," McClain said. "'We're not going to come out of this,' was something you heard, and you heard it a lot."
After a summer of bad news, the reaction around the IYA to the news that Home Depot was going to take on the role of fairy godmother was . . . well, it was just what you might expect.
"Oh my god, this is amazing," said McClain, who has bowed out as president after a water-logged year and now serves as a board member and coach.
McClain, who was the go-between from the IYA and Home Depot, contacted new IYA president Jeff King with the news as soon as the deal was solid. She contacted everyone who had been at the league's fields through six - count 'em, six - floods. King's wife, Kathy, got a call. Longtime board anchor Lonnie Allen and his wife, Linda, got calls. League treasurer Brenda Christian got a call. McClain's husband, Michael, got a call. And after IYA's immediate family heard the news, board members, coaches and league helpers all got the word.
"This is a family," McClain said.
And the family expanded by a good bit when "Uncle" Home Depot committed to Tuesday's party.
McClain can't wait. The IYA can't wait.
"This is great," McClain said "It's going to be phenomenal."