Rams' Draft: 'Can't get around fact we are 3-17 in the last 20'
September 29, 2008
---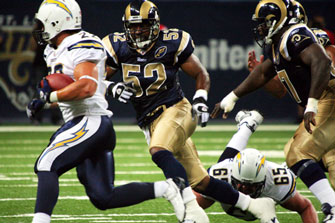 NFL Insider Report with Tom Curran
NBCSPORTS.COM
Monday, September 29, 2008 9:02 AM
I just landed in Philly on my way back home from Tampa Bay. Hunkering down with my Dunkin Donuts, St. Louis Rams linebacker Chris Draft returned a call.
"What's going on," I asked.
"Just watching the news about my coach getting fired," Draft answered.
Well, nobody's saying they didn't see this coming. When "win or be fired" ultimatums are being issued as they reportedly were about Rams coach Scott Linehan over the weekend, it's all over but the earnest conversation.
Did the speculation about Linehan's status hurt the Rams' performance?
"No. We weren't worried about that. We just had to win. It was on us. Speculation's not good but the way that you alleviate that is to win," said Draft.
The Rams took a 14-6 lead into halftime against the Bills then got outscored 25-0 in Linehan's last half as their head coach.
"We took a step in the right direction yesterday, the offense ran a lot smoother," said Draft. "We were together. Jack (Steven Jackson) ran the ball well, Torry (Holt) had his catches, Donnie Avery ran well. We were flying around on defense. Then we give up big plays here and it's still 31-14.
"It's pretty obvious, the only thing matters is winning and losing," Draft continued. "At the end of the day, we still went 3-13 last year. They don't put an asterisk next to it because of injuries. It doesn't say, 'They were 3-13 but had 19 people on IR'. That's what it is. You can't get around the fact in the last year and change, we are 3-17."
Asked if Linehan was overmatched in the job, Draft said, 'I don't think so but it's about what the outcome is. You can't say you're not overmatched and then lose 17 out of 20. There's still something behind."
Although it's not been confirmed, it's expected that Jim Haslett will be the interim head coach. Working off that assumption, Draft said, "I think it's the best move for us in terms of the interim. Rick Venturi (the Rams linebackers coach) was defensive coordinator here so Rick can possibly assume that role and that's not being too much of a stretch for us, it won't completely will disrupt things."
How did Linehan respond to the team after the game. Was there resignation?
"It was more disappointment. This game, we were up at the half. This game we were poised to take and didn't do it. The other part of the disappointment was it might have been told to him, 'Hey, if you don't win this game….' We had all the momentum, we looked great and we gave the game away. There's a lot of diffeent things that haven't gone well for us, but we're 3-17 and we're all a part of that. The head coach is going to bear the brunt of it a little bit more. Whatever happens going forward, the players will too."