Draft Ready for Return
December 03, 2008
---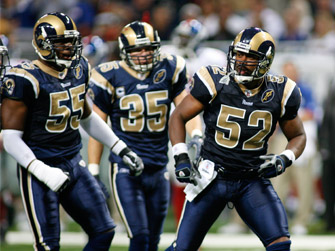 By Nick Wagoner
Stlouisrams.com
With the Rams out of playoff contention, it would be simple for injured players to take the easy way out and go on the shelf for the rest of the season.
But once again this week, another Ram will overcome an ailment faster than anticipated to return to the field sooner than his original diagnosis.
Last week it was left tackle Orlando Pace and his injured knee coming back at least a week early. This week it's linebacker Chris Draft coming back from a broken foot before the original target date.
"Chris Draft has a broken foot," coach Jim Haslett said. "He's supposed to be six weeks, he comes back in (four) weeks. If nothing else, it shows you some of the character you have on the team in some of the players. Now, it's not equating into wins enough but it does show you at the end of the year when you are evaluating your football team, what kind of guys you want to have on your team. Those are the kind of guys you like to have."
Draft's early return was predicted by Haslett not long after he suffered the injury against Arizona on Nov. 2. Now, it appears he coming back in time for the rematch with the Cardinals this week.
Draft wore a boot on his foot for a couple of weeks before beginning a running regiment last week. Draft said it didn't feel quite right when he first resumed running but it got progressively better in the days following.
On Wednesday, Draft returned to practice for the first time since the injury and apparently made it through the workout OK though he was listed as limited participation on the injury report.
"I felt pretty good today," Draft said. "I got a good amount of work in and I'll see how it feels tonight. That's what it comes down to. If I feel good and I get out there they will let me go out and make some plays. I got a good test tomorrow and tomorrow I will be able to check that thing again and really feel good about it."
Assuming Draft has no setbacks; his return will come at a position different than the one he vacated when he went out with the injury.
Middle linebacker Will Witherspoon is battling shoulder injuries and Draft took his repetitions in that spot during Wednesday's practice. If Draft is able to play as expected, he would start there.
That wouldn't be terribly difficult for a player who has played all three linebacker spots in his time in the league.
"I played that before," Draft said. "I've played all three positions. I'm not really worried about that as much as getting a feel for where I'm at (in terms of health)."
Getting Draft back in the lineup will come as a welcome respite for Haslett as well as Draft.
"He brings a lot of leadership to the group," Haslett said. "I think he brings calmness to the group. He's smart, he can play any position, get people lined up. Chris has kind of a calming effect. That's why we inserted him earlier in the season."
As for Draft, his constant energy has been suppressed some by the injury, making him all the more excited about a return regardless of how fast or slow his recovery has been.
"It is kind of torture but I had to concentrate on staying healthy and really being able to give my insight to the other linebackers in terms of what we can do to get a win on that field," Draft said. "There's only so much you can do. That was my win. My win was get as much treatment as possible, be honest about how I feel and being able to get myself back."
DECISION TIME ON HILL: Injured cornerback Tye Hill did some more running on the side during Wednesday's workout and it remains to be seen when he will be able to return to practice or even a game.
Hill has been out since Sept. 28 against Buffalo when he suffered a knee injury that he appeared to be close to recovering from before suffering a setback.
With just four games left and the unlikely scenario that he can play this week, Haslett and the Rams are expecting to make a decision on whether to place him on injured reserve, ending his season.
"We've got to make a decision," Haslett said. "He's been sitting around doing nothing. This is week 6. Sooner or later he's got to get back on the field. He's been hurt for, this is what he missed eight games last year and he's going to miss 10 games this year, 12 games this year. That's a lot of games."
Hill was the only player listed as did not participate in Wednesday's practice.
JACKSON RUNS WELL: Rams running back Steven Jackson was also limited in practice Wednesday as he continues to monitor his injured right thigh.
Haslett said Jackson ran well in the practice and it appears he is getting healthier and has had no noticeable setbacks.
"I think you will have to ask him so we don't have a conflict here," Haslett said, a grin creeping across his face. "He looked fine to me today. At least, I thought he was fine."
Jackson rode the stationary bike to keep loose when he wasn't involved in the plays on the field and Haslett indicated Jackson's reps and touches will increase as he continues to prove his health.
"I think it would be more," Haslett said. "We'll sit down based off of how he feels this week and try to get him going. He looked good to me today so we'll add some reps based off how he feels. He'll get back in the swing of things full go here (soon)."
INJURY REPORT: Joining Jackson and Draft as limited in Wednesday's practice is a lengthy list of Rams.
Defensive end Victor Adeyanju (neck), receivers Donnie Avery (hip) and Keenan Burton (knee), linebacker Gary Stills (back) and Witherspoon (shoulders) were limited.
For Arizona, the only players of note on the injury report were receiver Anquan Boldin (back) and safety Adrian Wilson (shoulder). Both were limited.