Draft Selected as Rams Walter Payton Man of the Year
December 01, 2008
---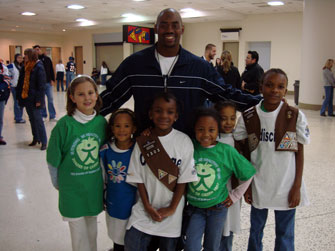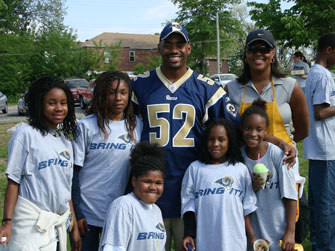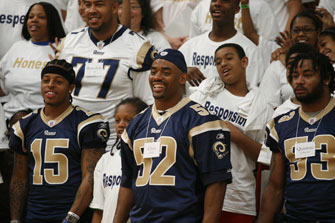 By Nick Wagoner
Senior Writer
Drafted by Chicago in the sixth round of the 1998 NFL Draft, Chris Draft spent one season on the team's practice squad.
It was a year that didn't create much in the way of memories before he moved on to San Francisco the following season but there was at least one thing that happened early in that first season that Draft won't soon forget.
"My first preseason game in Chicago I actually got a chance to hang out with Walter Payton for a while," Draft said. "It was actually right before he got sick too. He was still strong and always full of life and always smiling."
It was with that memory in mind that Draft received word that he was named the Rams' Walter Payton Man of the Year recipient for 2008.
That award is given to one representative from each of the NFL's 32 teams and honors the player for his community service off the field and as well as performance on the field.
Draft's omnipresence in the St. Louis community has made him one of the most recognizable faces. While others are sleeping, Draft is seemingly up late at night figuring out another way to help some one or some thing in need.
It's a mentality he says has been ingrained in him since he was young.
"Early on, my folks really emphasized and it's kind of a small example but it's important…If there's trash on the ground, you pick it up, otherwise you are part of the problem," Draft said. "I kind of used that idea for everything I do. If you see a problem, you see something that's wrong, if you don't do something about it not you are actually contributing to it."
In Draft's case, it's quite the contrary. You'd be hard pressed to find a problem that Draft isn't trying to improve.
In 2006, Draft formed The Chris Draft Family Foundation. While many non-profits of similar nature have a single focus, Draft's has seven major initiatives to address.
Those programs include themes of education, healthy lifestyles, character development, personal responsibility, self-discipline and physical fitness.
As part of that, the Draft Foundation finds partners across the country to "empower and uplift communities by educating and equipping families to make healthier choices."
The majority of Draft's work in 2008 has been done in St. Louis, where he's worked on everything from the NFL's Play 60 campaign to giving out water during the hot summer months in an effort to keep people hydrated.
In addition, Draft is active in asthma education because he's a professional athlete who deals with its effects on a daily basis.
And Draft's efforts don't stop in St. Louis. His foundation also has a presence in Chicago, San Francisco, Atlanta, and Charlotte (all places he's played), his birthplace of Kansas and his hometown of Anaheim, Calif.
Another of Draft's calling cards is his propensity for quickly embracing new places and making them his own.
"Basically when I signed here I said right away that this was my city and that's how I look at things," Draft said. "I take ownership of wherever I am and a part of right away. I tell people when I am going out and doing work that if I'm going to do something don't think it's going to be halfway. Everything I do is fully committed so if see something that's wrong, I'm going to fix it. Same thing on my team and same thing in my city. That's what it comes down to. If I see some thing or some one that needs help, let's go get it."
The Walter Payton award also rewards players for their work on the field. This season, Draft has started seven games and played in 10 with 26 tackles and a pair of passes defended.
And for those who might question the toughness of a player with such a soft spot for his community, Draft impressed coaches and teammates with his stunningly quick return from a broken foot as he missed just four games.
Draft is the first to recognize that his love for football has helped give him the platform to help in the community. One leg won't stand without the other.
"I think that's what (this) award is really about is someone that takes that love of the game and their discipline and tries to spread that to the rest of the people," Draft said. "The game is the job you do and it's how you do that and trying to bring that mindset to everybody else. Let's enjoy this game and this life and have fun."
Draft earned the Carolina Panthers' Man of the Year award in 2006. In his 11 seasons, Draft has made an impact at each of his five NFL stops.
While Draft has been honored for much of his work in the community, he maintains that isn't where his motivation comes from.
The Walter Payton Award is the only one of its kind, rewarding players for involvement off the field. Each team nominates one player and then one player earns the league-wide award.
But even if Draft doesn't win this year, he's already gathered all the motivation he needs to continue building on the foundation he's already laid.
"It's an honor to be recognized for the community work I am doing," Draft said. "I always look at awards like this as not something I want to be too excited about that I got it but it does let me know that the work I am doing is on the right track and hopefully it will open up some more doors for us to be able to do more work."