Draft Day® Returns to Atlanta
April 30, 2009
---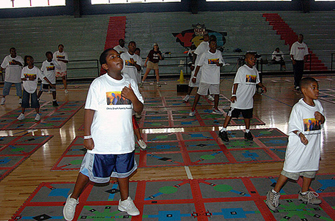 Click here to visit the Draft Family Fitness Day - Atlanta Website!
Atlanta holds a special place in the heart of NFL linebacker Chris Draft. After bouncing around the NFL for a couple years, Draft finally found a home with the Falcons. On June 20, Draft returns to his southern home and he's bringing his foundation's signature event, Draft Family Fitness Day, with him.

The NFL Youth Education Town Boys and Girls Club provides the perfect setting for Draft's family fitness camp, which features a variety of health, fitness and financial sessions for youth and their parents. Draft is a board member and has been very involved with the development of the Atlanta NFL Youth Education Town or NFL YET.

"The great thing about Draft Day® is that it was conceived with the NFL YET in mind," Draft said. "The idea actually came from an award show called the G.O.A.L. Awards, which stood for grades, outstanding athletics and leadership. It was an award show that the Boys and Girls Club hosted at the ESPN Zone in Atlanta where I was the keynote speaker a couple of years. The award show honored the top three kids, boy or girl, from the 30 Boys and Girls Clubs in metro Atlanta. This would be just their top three. So, Draft Day® was hatched on the premise that there were great leaders at all of the clubs. Unfortunately, they couldn't all receive awards, but they can all receive recognition."

The NFL YET offers a place for youth to go after school where they can participate in a variety of educational and fun after-school activities. While many active and retired NFL players have been involved with the Atlanta community and the NFL YET, Draft is the only active player to serve on the board.

While the NFL YET provides the perfect backdrop, Draft has made arrangements to make each session as impactful as possible, partnering with outstanding community groups like the PTA, the Centers for Disease Control, the Boys and Girls Club, the NFL and Public Allies, a group founded by President Barack Obama and his wife Michelle.

"The excitement is, with them bought in and committed, it allows Draft Day® to be more than one day," Draft said. "That is always the goal, to be able to take what we're talking about on Draft Day®, which is just an initial conversation that we want to make sure keeps on going. What we're talking about on Draft Day® should never stop after Draft Day®. With the commitment of community groups and leaders, it makes sure that the conversation continues and that education continues."

During the Draft Family Fitness Day, the youth and parents split up to attend sessions surrounding similar topics: fitness, finance, nutrition, goal setting and character building. Draft has recruited some of the best local presenters as well as some familiar faces to lead the sessions. Joining the event in Atlanta are Chef Marvin Woods, who will lead the Chef Talk session, educating parents on making healthy choices and preparing healthy meals.

Joining the Health Professionals Roundtable are Sandra McDonald and Michael Sells. McDonald is a native of Atlanta and the President and Founder of OUTREACH, INC., the first minority non-profit providing HIV/AIDS support to the African American communities in Atlanta.

Leading the youth in Girl Talk, a session where the young ladies can learn how to become the best woman they can, are Chato Waters and Kristye Addison. Waters currently serves as the coordinator of the Atlanta Falcons cheerleaders as well as a teacher at an Atlanta-area high school. Addison, a former Falcons cheerleader, is an Atlanta area artist that specializes in tribal paintings and moodscapes, which focus on emotion.

"One of the most important aspects of Draft Day® is to not just highlight the amazing youth leaders and their parents, who have done a great job in encouraging them, but to really highlight the community resources," Draft said. "There are a lot of folks that are doing amazing things on a daily basis that are not seen. So we want to be able to say that the answers are always right there in the community."

There are a few familiar faces from Draft Family Fitness Day as well. Former Atlanta Falcon Pellom McDaniels will once again lead the youth in the goal setting session and Draft's college teammate at Stanford University, Eliel Swinton, will lead the youth in Just Us Guys, the male equivalent to the Girl Talk session. Draft's father, Tony Draft, and George Stewart, Minnesota Vikings wide-receivers coach, will be back in the Coaches and Parents Roundtable, discussing the best ways to keep kids active and educated.

Last, but certainly not least, the youth will be run through the Balanced Bodies session, which features yoga instruction and overall wellness for mind and body from Cheryl Crawford. Crawford served as an Atlanta area reading and curriculum specialist before moving on to her passion, yoga. She now teaches yoga to children and young adults at the Decatur Yoga and Pilates Studio in Atlanta.

"This is the third year in Atlanta, so we're really hoping for this to continue to spread through partnerships with the PTA, Boys and Girls Club of America and the NFL, and hopefully next year, we'll be able to take Draft Day® to about 10 different cities," Draft said.