Draft Wraps up Busy Week with Draft Day® Atlanta
July 02, 2009
---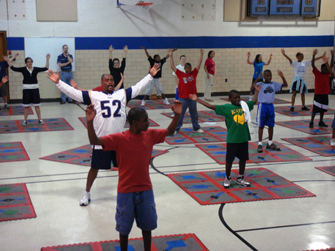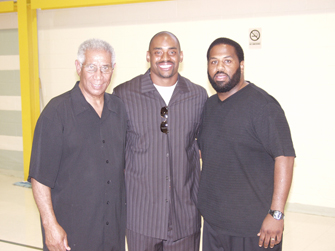 Culminating in a successful Draft Family Fitness Day in Atlanta, Rams linebacker Chris Draft wrapped up a busy, yet exciting, week of community activities.

Tuesday, June 16: Rams Kaboom Playground Build

Draft began his week of community service by participating in an organization-wide Rams event, the Kaboom Playground Build at Lincoln Park in East St. Louis, Ill.

"It was put on by Kaboom, which is just the guru of playground building now," Draft said. "It was a great day, because we really had a chance to bring the whole team together. This is not just the team in terms of the players, but the whole Rams Family (players, coaches and staff)."

Although the sky opened up early in the day, the moment the Rams players, coaches and staff arrived at the park, it began to clear up. The Rams family got to work building a playground for East St. Louis children and were finished by the end of the day.

"The great thing about it is that the guys were not afraid to get down and get a little muddy," Draft said. "They jumped right in and went to work."

Wednesday, June 17: AAA Busch Summer Program Visit and Speaking at JFL Banquet

Wednesday turned out to be a day of character for Draft, as he took the message of the Character Team™ across St. Louis, beginning with the youth at the AAA Busch Summer Program and ending the day by speaking to Junior Football League coaches.

Draft was able to take part of Draft Family Fitness Day to the Busch AAA summer program in the form of the Fitness Blitz, featuring HOPSports. Draft ran the kids through an exercise routine using the HOPSports technology and was able to talk about character as well as hand out some Rams and Character Team™ shirts.

"The AAA Busch Summer Program is really based on the Character Team™ principles," Draft said. "Their summer program is character based and focusing on fitness, so it was the perfect marriage for me to come and bring the message of the foundation with what they're doing."

That evening, Draft made his way to the St. Louis Junior Football League, or JFL, banquet honoring coaches that have been participating in the league for at least 25 years.

"They were honoring all the coaches that have been in the JFL for over 25 years, which is just an amazing accomplishment, but more of an amazing commitment," Draft said. "I really praised the coaches for their commitment to building better men. I said that I know by their commitment of 25 years, it hasn't just been a commitment to building NFL players or College players, but a commitment of 25 years really signals a commitment to building these men out of young boys."

Thursday, June 18: Scott Air Force Base Rookie Visit

Thursday was a big day for Draft, as he organized a trip for the 2009 Rams Rookie Class and new Rams offensive lineman Jason Brown to Scott Air Force Base as a way to say 'thank you' to America's servicemen and servicewomen as well as their families.

"The military appreciation initiative is always a joy to execute," Draft said. "We were able to take the 2009 Rams Rookie Class along with Jason Brown over to Scott Air Force Base and say 'thank you.' 'Thank you for all that you're doing and thank you families for being supportive and sticking with it."

Draft, Brown and the rookies took a tour of the Scott Air Force Base control tower and got an up-close look at an F-22 fighter jet. The players then ran some football drills on the Scott Air Force Base field for 300 members of the base, made up of the junior ROTC and some of the servicemen and servicewomen and their families.

Friday, June 19: Draft Family Fitness Day Meet and Greet

Draft made his way back to Atlanta for the Draft Family Fitness Day Meet and Greet Friday evening. Before each Draft Family Fitness Day event, Draft hosts a meet and greet for the sponsors, presenters and volunteers. The Meet and Greet provides a great opportunity for the people involved in Draft Family Fitness Day to mingle and share their stories of what makes Draft Day® so important to them.

Saturday, June 20: Draft Family Fitness Day – Atlanta

Draft wrapped up a very busy week in the community with the Chris Draft Family Foundation's Signature event, Draft Family Fitness Day, at the NFL Youth Education Town Boys and Girls Club in Atlanta.

The event featured groups from around the metro Atlanta area coming together for a day of family fitness education through plenty of physical activity as well as classroom sessions revolving around cooking, character and even financial fitness.

"Everything went great," Draft said. "Parents were involved, excited. Some of them actually wished the classes were a little bit longer. The kids, they were intense, running around on the field and having a great time, but also were participating and giving some great answers, as we knew they would, because they're leaders from their community. It was exciting. It was a great time."

Even though Draft's busy week is finished, he's gearing up for another one as he prepares to head to Florida, where he will be introduced as the national ambassador for the Parent Teacher Organization. He will also attend and speak to all the NFL rookies at the 2009 NFL Rookie Symposium.