Draft Teams with Operation HOPE to Support "United We Serve" Campaign
June 21, 2009
---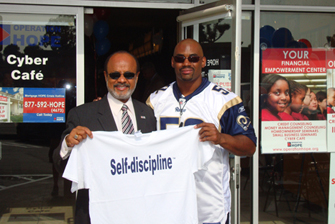 Southern California native son and Rams linebacker, Chris Draft, teamed up with financial literacy nonprofit Operation HOPE (HOPE) to deliver "BOOF(Banking on our Future, Operation HOPE's financial literacy initiative) In A Day" at the Housing Authority Los Angeles (HACLA) site in Mar Vista Gardens to 50 high school students as a part of its "silver rights" mission to empower the underserved. This year, along with paid work experience they are learning the key financial responsibilities associated with earning a paycheck.

Recognizing the need and knowing Draft's dedication to community involvement, the National Football Players Association solicited Draft through the Chris Draft Family Foundation, Chris' outreach to promote mentorship, and education as two core values for a healthy community, to play a role. In partnership with the program facilitated by President Barack Obama and First Lady Michelle Obama's to encourage volunteerism, United We Serve, (www.serve.gov), the NFL Players Association teamed up with Operation HOPE to get out to a classroom to mentor a group of Los Angeles youth.

"It's important for young people to understand the importance of managing their money. It's not about how much money you have, as it is about knowing how to manage the money you do have." Chris, an All-American in football and baseball during his high school years, who went on to graduate from Stanford University believes that understanding the "language of money" is critical success in life.

Sponsored by Mayor Antonio R. Villaraigosa and the Los Angeles City Council, HIRE LA's Youth Employment Program links at-risk youth to employment opportunities that promote self-sufficiency. This year, the Mayor strives to place 16,500 youth in paid jobs. Facilitated by the Community Development Department, under the policy oversight of the Workforce Investment Board, HIRE LA's boasts several components including the Summer Youth Employment Program (SYEP). SYEP will place 8,550 of these youth in paid jobs and Operation HOPE was selected to educate at least 4,500 of these youngsters with a 4 hour course called Banking on Our Future which covers foundation of financial education.

Operation HOPE and United We Serve have partnered to raise a call to service to Los Angeles areas residents to come out and join Chris Draft and other volunteers to facilitate the financial literacy training for these youth. All summer HOPE will be recruiting and training volunteers to deliver this much needed training in more than 80 classroom sessions using its award-wining Banking on Our Future curriculum.

"We are grateful that Chris Draft took time out of his busy schedule to impact the lives of these students," said Emily Ausbrook, HOPE SVP, HOPE Corps Manager. "It only goes to show you that everyone can participate, there's always a few hours your can spend giving back. It makes all the difference to helping our kids lead a better life," she pointed out.