Congrats to Cord, One of our First 'Draft's Picks'
June 29, 2009
---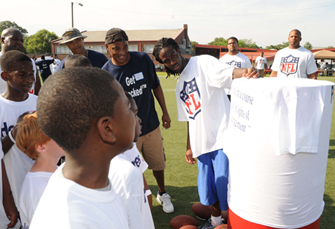 Courtesy of the St. Louis Post-Dispatch.
As a 13-year-old in 2000, Cord Parks attended Chris Draft's "Family Day" football camp in Atlanta. "It was more than just football; it was about life and growing up," Parks recalled.

At that time, the last thing on Parks' mind was a career in the NFL. He just liked playing football. Nine years later, he shows up at his first NFL minicamp this past spring, walks into the locker room at Rams Park, and sees the name "Draft" on one of the locker stalls.

Yes, it was the same Chris Draft. "We just started talking from there," said Parks, an undrafted rookie cornerback who majored in engineering at Northeastern University in Boston.

Draft invited Parks to his camp this year and even paid to fly Parks there. "I got to speak to the people (at the camp)," Parks said. "My mom got to come in and kind of like testify and give her input on me going to that camp."

Parks is in a much different camp now, trying to play his way into a backup job. "Right now, my focus is really busting my butt on special teams, and learning my plays," he said. "Make sure I decrease my mental errors."

Who knows? Maybe someday, Parks will have his own football camp.