Chris Draft Kicks Off 2009 with a Community Weekend
June 11, 2009
---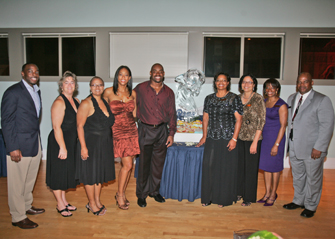 The NFL season is upon us once again, and for Chris Draft and the Chris Draft Family Foundation, that means one thing, spending time in the community. Draft did exactly that, kicking off the 2009 NFL season with a big community weekend that featured a charity fundraiser, a return to Barrett Brothers Park, spending time with St. Louis students and watching a little college football.

"It was a chance to let people know that football season was kicking off," Draft said. "On the field, we were about to get going, but right along with that, we were kicking off our season off the field. To really use the same sense of urgency on the field and really going to get it, we wanted to bring everybody together and say 'hey, it's time to go. Let's come together. Let's bring our ideas together, and let's get going.'"

Draft's community weekend kicked off with a bang as the Chris Draft Family Foundation hosted the 2009 NFL Kickoff Charity Fundraiser on the outdoor rooftop terrace of the Centene Center for Arts and Entertainment in St. Louis.
Featuring heavy Hors d'Oeuvres and cocktails, the charity fundraiser provided a great place for attendees to go and relax, have some cocktails, enjoy some good local music and learn a little more about the Chris Draft Family Foundation.

"The big idea behind it was that being able to make a difference doesn't have to be a stuffed shirt," Draft said. "It doesn't have to be something that you've planned for, that you take time out or sacrifice for. Making a difference can be just a party. You want to improve your community, and in doing that, it doesn't have to be bland, it should be fun. That's what we wanted to do. We wanted to say that there's nothing wrong with dancing, joking and hanging out. That is what making a difference is about. It should be a good time."

Draft was scheduled to make a return trip to Barrett Brothers Park, the site of the shooting death of St. Louis police officer Norvell Brown two years ago, for a community improvement inititative that featured a cleanup of the park. Unfortunately, rain put the cleanup effort on hold, but that didn't stop Draft and St. Louis Alderman Jeffrey Boyd from visiting the park anyway to thank any community members that had shown up in the rain for the event.

"It worked out that there were some young football players that were picking up their uniforms at the same time, and they were actually going to be a part of the pickup," Draft said. "It was kind of a dual purpose of being out there, one was getting their jerseys. I got to talk to them a little bit, and I found out that they were actually out there two years ago when we first did it. The parents and the kids were out there two years ago. It was great to remind them that we're looking for leaders, but it was great for them to understand that we've been there, and they've been able to see the changes that have been made. For us to make more of a difference, we need you guys. It doesn't matter how young you are. There were a couple of guys that were in fourth grade. I said you guys are old enough to stand up and lead and do the right thing."

Later that afternoon, 250 youth leaders from the St. Louis Public Schools received an award for their dedication and commitment to character from the Chris Draft Family Foundation and the St. Louis Sports Commission. Draft joined with the sports commission to reward the public school leaders with tickets to the Arch Rivalry football game, featuring the University of Missouri taking on the University of Illinois to kick off the college football season.

"It's such a great opportunity," Draft said. "Solomon Alexander from the St. Louis Sports Commission Foundation was able to coordinate 250 tickets to the Missouri-Illinois game. You can always give out tickets, and it can be for doing nothing, really. You can just give tickets. But the great opportunity was to be able to partner with the school district and allow them to pick the students that have really shown in the first couple weeks that they were ready to learn. They've come focused, ready and committed. I wanted to be able to honor them along with their parents. They were able to get two tickets, one for them and one for their parent to say that you being ready to go isn't just about you. It's about the support network you have around you. We wanted to thank them for coming and being ready to go, but we wanted to thank the parents and that support network for being able to get them ready to go."

Following the visit to Barrett Brothers Park, Draft made his way to Woodward Elementary School in St. Louis where a group of Washington University students were taking part in a 'Service First' day, helping the school prepare for the upcoming school year by painting murals, preparing bulletin boards and setting up playgrounds.

Draft made it a point to commend these future leaders for their character, encouraging them to be engaged on- and off-campus and continue to make a difference by taking ownership of St. Louis, not only a student, but a citizen of the St. Louis area.

"It was encouraging to see the students out there," Draft said. "I think there were 1,200 students that were able to go out to eight different public high schools and really do some improvement at the schools. I'm just excited about Wash U. who supported that initiative and really getting their students out. The students were incoming freshmen. That really says a lot about Wash U., that they encourage their students to take part in a large community service day."

Draft wasn't done yet. He followed up his community weekend with a visit to AAA Busch to award students that have made healthy lifestyle choices with tickets to an upcoming Rams game. As part of the What Moves U campaign, the AAA Busch students pledged to lead a more active lifestyle, and Draft presented the students with the most minutes with Rams tickets.