Draft Returns to Sumner High School for Field Dedication
November 02, 2009
---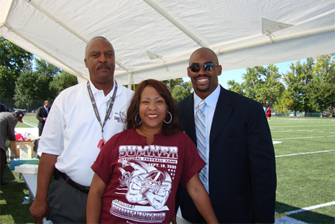 St. Louis Rams Community Outreach Director, Michael Yarbrough summed it up best when he said, "Chris Draft's passion for service and belief in the power that professional athletes can have in the community is unparalleled."

For NFL Linebacker and former Rams Player Chris Draft, it seems like just yesterday when Yarbrough, after meeting him for the very first time, requested that he make a short notice visit to Sumner High School. He said, "I needed someone in a very short notice to go to the school and without any hesitation Chris agreed; but minutes before the visit, the school actually called to reschedule. However, rather seeing this as an opportunity to have his afternoon to himself, Chris proceeded to the school anyway and met with the members of the football team and administration, and began a long-lasting relationship with them that continues to this day."

Draft went to Sumner High school that day, which was actually two years ago, because he realized the impact professional athletes have on youth, and saw the opportunity in which he and the Chris Draft Family Foundation could once again encourage youth to make healthy life choices and become successful adults and model citizens within the community. He said, "I basically spoke to the players of the football team about improvement within themselves, as well as taking pride in their school and being a part of rebuilding the team, the school, and the community as a whole." And now, on September 25, 2009, like a proud parent at their child's graduation, Chris was extremely proud to take part in the restoration of Sumner's football field, which he feels is just the beginning of the improvement he was referring to; and also the improvement in which he is committed to supporting at the school as well as throughout the St. Louis Community.

Through the generosity of the St. Louis Rams and the Anheuser-Busch Foundation, PHL restored the football field at Sumner which now includes state-of-the-art Sprinturf field lights, bleachers, restrooms, and pavilion. The new complex is able to accommodate the school's athletic teams, youth sports, and even community events such as health walks. It was also named in honor of the famous Tuskegee Airmen (seven of whom graduated from Sumner).
Thom Kuhn of PHL, the not-for-profit organization over the project, told media sources, "Our overall goal is to repair, replace, purchase, improve, and build athletic facilities and equipment for public school districts in the St. Louis area. This is our eighth project pushing out total improvements to date to more than $2 million at absolutely no costs to the St. Louis Public School District. Projects such as this don't happen without the support of community leaders, the school district, and the many companies and organizations that come forward to help either financially or by donating their services."

And Draft is definitely one of the community leaders who are passionate about offering his continued support to St. Louis Public Schools, youth, families, civic groups, and health organizations throughout the city. In fact, his passion for community improvement is why he and the Chris Draft Family Foundation partnered with the NFL Youth Education Town, known as YET. The NFL Youth Education Town (YET) initiative has established educational and recreational facilities for at-risk children in each of the Super Bowl host cities since 1993. YET is a private/public partnership funded by the National Football League and local sponsors, with a primary mission to enhance educational opportunities for at-risk children. The NFL accomplishes this goal by providing funding to create state of the art after-school facilities for underserved children, which offer tutoring, mentoring, career training, computer education, and access to recreational activities and sports programs. The YETs are designed to help youngsters succeed by providing educational assistance, job training, technical instruction and access to technological necessities, life-skills development, and recreational outlets. Facilities are unique but all include libraries, classrooms, technology labs, and fitness centers.

Draft's overall objective through his community improvement initiative is to provide America's neighborhoods and communities with safe environments in which to play, learn and grow while adopting healthy lifestyles. Other initiatives offers through his foundation include Draft's Picks, Character Team, The Asthma Team, Get Checked and Get Fit, Literacy Leaders, and Military Appreciation.