Character Team™ Reaches Charlotte Schools
December 03, 2009
---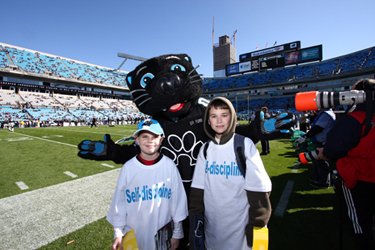 The Chris Draft Family Foundation's Character Team™ has made its way to Charlotte, as the foundation has partnered with the Carolina Panthers to teach Charlotte middle school students the importance of character.

The Panthers' Character Team™ will consist of a nine-month character education program for students in Charlotte-Mecklenburg middle schools that feature both video PSAs and posters featuring Panthers players, cheerleaders and mascot, Sir Purr.

In partnership with the Chris Draft Family Foundation, and former Panther Chris Draft, the character education program will feature a character education contest for the students, centered on specific character traits. Each school in the program will select one student per month that best exhibit that month's character trait.

"Character Education is vital to integrate collaboration and self-ownership within the schools," said Debra Kaclik, Health and Physical Education Specialist of the Charlotte-Mecklenburg schools. "Having the Carolina Panthers and other NFL players like Chris Draft involved really brings credibility to the program. With such great mentors to model, students elevate their game to be more like them. This means providing a curriculum that is inherently interesting and meaningful to students."

These students will receive a character team T-Shirt, and finalists selected by Charlotte media and Panthers players will have the opportunity to go to a Carolina Panthers home game on tickets provided by the Chris Draft Family Foundation.

Nine finalists will be selected, one for each character trait, and will have the opportunity to attend an All-Star Luncheon at Bank of America Stadium in the spring.

"This is really a great opportunity to work with the Panthers and the Charlotte-Mecklenburg schools to let these students know how important it is to be the best men and women they can," Draft said.

The Chris Draft Family Foundation launched the Character Team™ in August 2007 as an effort to help good young men and women across the country extend the character-building lessons learned from participation in team sports and extracurricular activities as they apply to everyday life.

The focal point of the Character Team™ is to provide unchanging, unwavering, and indestructible standards as a means of measurement focusing on the key character traits of: compassion, courage, honest, perseverance, respect, responsible, and self-discipline.