Draft Named Ambassador of Service for MLK Day
December 26, 2009
---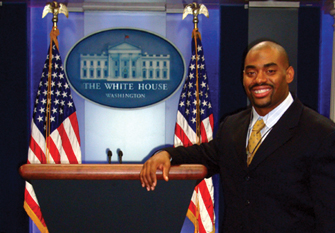 Chris Draft will join civil rights icons, national service leaders, academics and celebrities are as those named as this year's Martin Luther King, Jr. Day of Service Ambassadors. Draft is the only active athlete to serve as an Ambassador.

The Corporation for National and Community Service, the federal agency that leads the service initiative, tapped key individuals across various sectors to promote the MLK Day to a broad audience and encourage more Americans to do their part to help realize Dr. King's dream. Many Ambassadors will mark the King Holiday by volunteering in local service projects, while others will post Twitter and Facebook messages leading up to the day of service.

"These individuals have demonstrated a level of commitment to service that can inspire and activate thousands more to help transform our communities on MLK Day and beyond," said Nicola Goren, the Corporation's Acting CEO. "They exemplify the promise of Dr. King's dream and through their leadership advance his legacy of serving others."

Among the MLK Day Ambassadors are the co-authors of the legislation that established the King Holiday as a national day of service in 1994, and famed civil rights leaders who marched with Dr. King, U.S. Representative John Lewis (D-GA) and former U.S. Senator Harris Wofford.
2010 MLK Ambassadors of Service include (others are expected to be named later):

* Dr. Kimberly S. Adams Associate Professor, East Stroudsburg University
* Julian Bond Chairman of the Board, NAACP
* Chuck Brown Recording Artist
* Michael Brown CEO, City Year
* Byron Cage Award-Winning Gospel Artist
* Chris Draft Professional Athlete, Buffalo Bills
* Isaac Newton Farris President, The Dr. Martin Luther King, Jr. Center
* Wayne Firestone President, Hillel: The Foundation for Jewish Campus Life
* Geoffrey Fletcher Screenwriter of "Precious"
* Dr. Robert Franklin President, Morehouse College
* Seth Goldman President and TeaEO, Honest Tea Beverage Company
* Carla Hall President, Alchemy Catering; Bravo "Top Chef" finalist
* Hill Harper Actor, Author, Philanthropist and founder of Manifest Your Destiny Foundation
* Harry E. Johnson, Sr. President & CEO, Martin Luther King, Jr. National Memorial Project Foundation, Inc
* Jeff Johnson Journalist and Author
* The Honorable John Lewis U.S. Representative (GA-5)
* Ruth Messinger President, American Jewish World Service
* Edward Norton Actor
* Usher Raymond IV Chairman and Founder of The New Look Foundation
* Marc Roberge O.A.R.
* Jonathan Rosenberg CEO, Repair the World
* Tracee Ellis Ross Actress and Activist
* Rabbi David Saperstein Director and Counsel, Religious Action Center of Reform Judaism
* Reverend Al Sharpton Activist
* Emmitt Smith NFL All-Time Leading Rusher and President of ESmith Legacy, Inc.
* Pat Smith President of Pat & Emmitt Smith Charities and Founder/CEO of "Treasure You"
* Susan Taylor Founder & CEO, National CARES Mentoring Movement
* The Honorable Harris Wofford Former U.S. Senator
* Francene Young U.S. Vice President of Diversity and Inclusion, Shell Oil Company

Martin Luther King Jr. Day of Service

In 1994, Congress passed legislation encouraging Americans to observe the King Holiday as a national day of service that brings people together from different backgrounds to meet needs in their community. The Corporation for National and Community Service was designated as the lead federal agency to execute the King Day of Service. Participation has grown every year since then its inception. The King Day of Service provides American the opportunity to celebrate the life and legacy of Dr. King through service to meet local and national needs. For more information, visit www.Serve.gov/MLKDay or http://www.mlkday.gov.
The Corporation for National and Community Service

The Corporation for National and Community Service is a federal agency that engages more than five million Americans in service each year through its core programs, Senior Corps, AmeriCorps, and Learn and Serve America, and leads President Obama's national call to service initiative, United We Serve. For more information about the Corporation, visit NationalService.gov.