Extreme Makeover Helps Improve Buffalo Community
December 27, 2009
---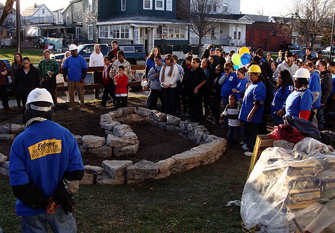 The Chris Draft Family Foundation doesn't take long to become entrenched in any community that becomes Chris Draft's NFL home, and it didn't take him long to settle in when he made the transition to Buffalo, NY. With the help of groups like PUSH Buffalo, a grassroots, non-profit organization working to improve the Buffalo neighborhoods, Draft and the Foundation found out that community improvement was very important to Buffalo as well.

To showcase the importance of this initiatve, PUSH Buffalo was featured on Sunday night's episode of the hit ABC show "Extreme Makeover: Home Edition." The Extreme Makeover crew rehabbed the home of local Buffalo resident Delores Powell and her four children.

Draft, along with Chris Draft Family Foundation Director of Strategic Partnerships Keasha Rutledge, were on hand to represent the foundation at a premiere event for the show Sunday night at Shea's Buffalo, which featured a red-carpet extravaganza to thank everyone involved with the process. Draft had the opportunity to speak to the crowd on the importance of community improvement.
Draft had the opportunity to team with PUSH Buffalo on several initiatives during his time in Buffalo, most recently working with the group during a day of service honoring Dr. Martin Luther King Jr. The Chris Draft Family Foundation apprechates the help of PUSH Buffalo, assisting the foundation in quickly implementing their community improvement initiative in the BUffalo area. Draft and the Bills were also on hand for the Extreme Makeover event, helping the designers with the construction.
The Chris Draft Family Foundation's Community Improvement initiative is an alliance of civic minded individuals who are dedicated to providing America's neighborhoods and communities with safe environments in which to play, learn and grow while adopting healthy lifestyles.
You can check out the episode of "Extreme Makeover: Home Edition" on Sunday, January 24 at 8:00 p.m. Eastern on ABC.