Draft Launches Children's Book at Super Bowl
February 06, 2010
---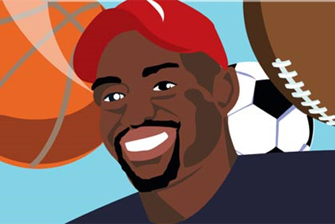 Miami, Fla. – NFL Linebacker Chris Draft will launch his new children's book, Do You Want To Play Catch?, which is endorsed by the NFL Players Association, NFL Play60 and the national PTA. The book promotes exercise and sends a message of teamwork and communication to both parents and their children. All of the profits from the book will go directly to the Chris Draft Family Foundation, which strengthens communities by empowering families to live healthy lifestyles through a national movement of self-awareness and education. To find out more about the book, or to purchase a copy, visit www.DoYouWantToPlayCatch.org.

To showcase the book's launch, Draft will participate in several events across the Miami area during Super Bowl week, where he will read to local Florida schools and sign copies of the book in a local book stores. On Thursday, February 4, Draft will start the day by reading at the Lauderdale Manors Elementary School in Ft. Lauderdale (1400 NW 14th Ct., Ft. Lauderdale, FL 33311) from 9:00 a.m. – 10:00 a.m. Draft will then move on and read to children at the Carol City Elementary School in Miami Gardens (4375 NW 173rd Drive, Miami Gardens, FL 33056) from 11:00 a.m. – Noon.

On Friday, February 5, Draft will participate in a book signing at 6:00 p.m. at Books & Books in Coral Gables (265 Aragon Ave, Coral Gables, FL 33134). He will follow that up with another signing on Saturday, February 6, at Books & Books in Bal Harbour (9700 Colins Ave, Suite #258, Bal Harbour, FL 33154) at 2:30 p.m.

The Chris Draft Family Foundation plays an active role at the NFL /Youth Education Town (YET) Boys & Girls Club in the Foundation's home city of Atlanta, GA. The Foundation will be donating two books to each NFL/YET Center in the US, and Draft will be personally giving the Fort Lauderdale Boys & Girls Club two copies on Thursday, February 4th.

Draft is currently a national Ambassador for the PTA and is the national Spokesman for Winning with Asthma and the Alliance for a Healthier Generation, which is a partnership between the Bill Clinton Foundation and the American Heart Association.

About the National PTA
As the largest volunteer child advocacy association in the nation, National Parent Teacher Association (PTA) provides parents and families with a powerful voice to speak on behalf of every child and the best tools to help their children be safe, healthy, and successful - in school and in life.

About NFL Play 60
The NFL PLAY 60 campaign is designed to tackle childhood obesity by getting kids active through in-school, afterschool and team-based programs, online child-targeted outreach on NFLRUSH.com, and many partnerships with like-minded organizations.uccessful - in school and in life.

About the NFL Players Association
The NFL Players Association is the exclusive collective bargaining agent for all players employed by clubs of the National Football League. Founded in 1956, the NFLPA works to ensure that the rights and interests of NFL players are protected. In addition, the NFLPA strives to be a valuable resource and to maximize player opportunities on and off the field through membership programs and community activities. For further information, visit www.nflplayers.com.

About the NFL Youth Education Towns
NFL Youth Education Towns (YETs) are education and recreation centers constructed in Super Bowl host cities that serve as a lasting legacy of each game. With each Super Bowl, the NFL donates $1 million towards YET development in an underserved area of that city.