St. Louis Rams Keenan Burton Tackling Asthma
January 03, 2010
---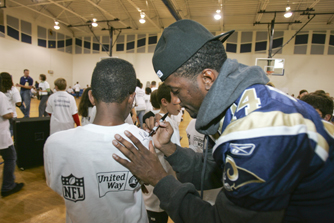 St. Louis Rams Wide Receiver, Keenan Burton can remember the day in Louisville, Kentucky when he was only nine years old, playing in one of his little league football games. Everything was as normal as could be until his chest started to burn and it became very hard for him to breath. Keenan was quickly taken to the hospital and shortly after, he and his family found out he had asthma.
For the next 4 to 5 years, he dealt with his mild case of asthma by using an inhaler daily, but Keenan's quick thinking once as a quarterback and safety for DuPont Manual Magnet High School and later as a receiver at the University of Kentucky and in the NFL, allowed him to see just what he needed to do to become accustomed to breathing without it. He said, "The reason why my asthma is not bad now is because of all of the exercising and staying in shape in my past."
So Keenan advises others to simply get active! He says, "The more active you are, the better the chance of overcoming it."
Keenan was drafted by the Rams in the fourth round of the 2008 NFL Draft and earned first-team All-State honors as a senior at DuPont Manual High as he helped lead the school to Class AAAA state playoffs in four consecutive seasons.