Support the Keasha Rutledge Draft Memorial Scholarship
July 10, 2012
---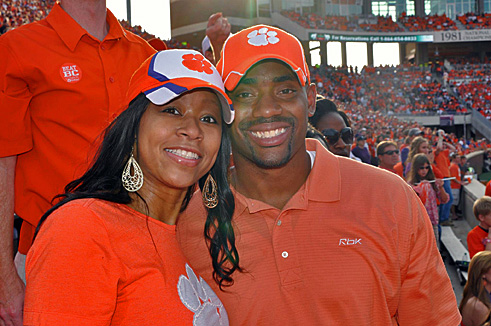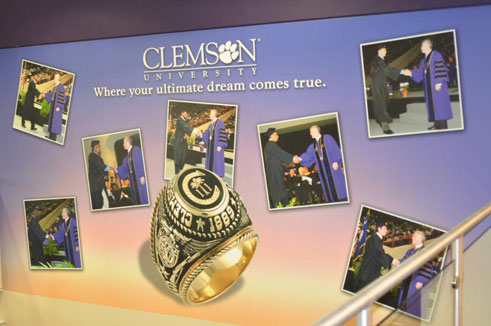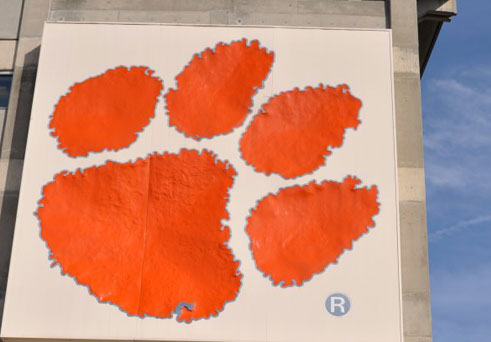 Former NFL Linebacker Chris Draft Announces the Keasha Rutledge Draft Memorial Scholarship at Clemson University
Donate to the Keasha Rutledge Draft Memorial Scholarship by visiting Clemson Giving.
Clemson, SC-February 10, 2012-On Tuesday, February 7, Chris Draft, former NFL linebacker and founder of the Chris Draft Family Foundation, announced the Keasha Rutledge Draft Memorial Scholarship to the Clemson University family in honor of his late wife Keasha, a proud Clemson alumna. The Scholarship, which was announced at the Tiger's basketball game against ACC rival Maryland, was created to provide an opportunity for Clemson students to further their studies in pursuit of their dreams, will be awarded annually to special students who embody Keasha's strength and determination. The game featured a special tribute by Clemson's Rally Cats, the University's official dance team. All of the night's dances were dedicated to Keasha, a former Rally Cat.
Tuesday's introduction marks Team Draft's initial effort to galvanize Keasha's Clemson family to aid in supporting the Keasha Rutledge Draft Memorial Scholarship for Clemson University undergraduate students. "Tonight's Rally Cat tribute to Keasha captured her vibrance and effervescence. Team Draft is grateful that the Clemson family has engaged the Clemson alumni to support and donate to the Keasha Rutledge Draft Memorial Scholarship," said Chris Draft. "We are excited and gratified that Keasha's Clemson family has embraced Team Draft and our fight to tackle cancer."
The Keasha Rutledge Draft Memorial Scholarship is an effort of Team Draft, a Chris Draft Family Foundation initiative created by the Foundation's co-founders during her year-long fight with devastating stage four lung cancer. Following her diagnosis in December 2010, Keasha chose to continue to live, smile and dance, while at the same time deciding to elevate the public consciousness of lung cancer by eradicating the stigma and stereotypes associated with the disease. Chris and Keasha's Team Draft initiative embodies the spirit of Keasha's courageous fight.
A healthy, energetic and vibrant woman, who never smoked and was the picture of health when diagnosed, Keasha spent the past year showing her friends and family how important it is to hold onto life and love, while continuing to smile. The Keasha Rutledge Draft Memorial Scholarship will give Clemson University undergraduate students the opportunity to follow in her footsteps. Her hope, and her husband's hope, is to give others the chance to live, dance and smile, while they find their way in the world.
On Tuesday night, the Clemson Rally Cats dedicated the entire night to Keasha's memory, designating the first dance of the game as a tribute to her courageousness and vibrance, which serves as a light that continues to inspire the Rally Cats. Wearing pearls and pearl-colored ribbons in honor of Keasha and her valiant fight against lung cancer, the Rally Cats and the entire Clemson family have joined Team Draft to change the face of cancer . . . one breath at a time.
The Clemson family, Team Draft and the Rally Cats are committed to assembling the necessary resources to ensure that Keasha's light continues to shine, and to give young people the same opportunities Keasha had as a Clemson student, and then as a Clemson alum. The Keasha Rutledge Draft Memorial Scholarship, funded solely by donations, exists to support undergraduate education at Clemson University. As part of Team Draft's campaign to raise awareness and shatter stigmas that plague lung cancer and impact funding, the Keasha Rutledge Draft Memorial Scholarship's support of Clemson undergraduates plays a crucial role in educating future generations. Ensuring that Clemson undergraduates follow in Keasha's footsteps and bring vibrant energy to their studies and post-undergraduate plans, Team Draft's introduction of the Keasha Rutledge Draft Memorial Scholarship is the beginning of a nation-wide effort to raise the funds necessary to help future Clemson Tigers make their mark, just as Keasha has.
To support that effort and donate to the Keasha Rutledge Draft Memorial Scholarship please visit Clemson Giving.
About the Chris Draft Family Foundation
The Chris Draft Family Foundation is a 501(c)(3) non-profit corporation dedicated to strengthening communities by empowering families to live healthy lifestyles. The Foundation focuses on seven primary initiatives with overarching themes that stress the importance of education, healthy lifestyles, character development, personal responsibility, self-discipline and physical fitness. For more information, please visit our website: www.chrisdraftfamilyfoundation.org.