Despite loss, former Falcon continues lung cancer campaign, fund-raising
March 08, 2012
---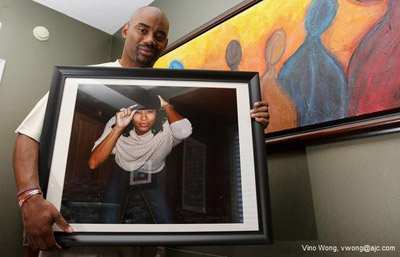 Courtesy of the Atlanta Journal-Constitution By Michelle E. Shaw
For years, organizations such as Lung Cancer Alliance and the National Cancer Institute at the National Institutes of Health have dedicated countless hours and millions of dollars to educate the public about lung cancer and new developments in detection and treatment. Yet as well-known as these entities are, their message often is overshadowed by other cancers, especially ones with higher survival rates such as breast cancer.
Advocates say they need all the help they can get - from those who survive and the families of those who do not - to continue to raise awareness.
"The way I look at it, there is no over-awareness right now, only under-awareness," said Laurie Fenton Ambrose, president and chief executive of the Washington, D.C.-based Lung Cancer Alliance. "We need to combine forces and strategize about how we build a more compassionate and comprehensive approach."
Enter Chris and Keasha Draft and their Team Draft initiative, "Changing the Face of Lung Cancer." The couple started the effort together, with the official launch at their wedding 
Nov. 27. The goal of the campaign is to raise funds to aid lung cancer research and education. But the task fell solely to Chris Draft after his 38-year-old wife died Dec. 27 on their one-month anniversary.
Keasha Rutledge Draft never smoked and was an athletic woman. An electrical engineer by trade, she danced professionally for the Charlotte Hornet Honeybees, worked out regularly and paid attention to her overall health, her husband said. "She was doing some ballroom dancing, Latin dancing and she was getting ready to do a competition," said Chris Draft, a former Atlanta Falcon. "But right at the beginning of December 2010, she said she had a little shortness of breath and she went and got checked out."
The visit to her doctor lead to a diagnosis of a late-stage lung cancer called adenocarcinoma, which begins in the cells that form the lining of the lungs. The condition accounts for just over 30 percent of lung cancer diagnoses, according to statistics from the Lung Cancer Alliance. The finding naturally led to speculation from outsiders about Keasha Draft's health habits, her husband said.
"That's the stigma of lung cancer," Chris Draft said. "Everybody wanted to know if she smoked. They're trying to figure out how she got it. But she didn't smoke."
The presumption that lung cancer is associated with smokers or exposure to second-hand smoke is a dangerous one, said Dr. Scott Kono, an assistant professor of medical oncology at Emory University's medical school, who treated Keasha Draft.
"Most people are not thought to be victims of cancer, but that they have cancer because of something they did," he said. "Not all lung cancer patients smoke like the Marlboro Man."
According to the Centers for Disease Control and Prevention, lung cancer kills more people in the U.S. than any other type of cancer and is the second-leading cause of death behind heart disease. More than 20 percent of lung cancer cases are diagnosed in people who have never smoked, Ambrose said. "Lung cancer is the leading cause of cancer death in every ethnic group," she said. "And lung cancer has been the leading cause of death among women and surpassed breast cancer in the late 1980s."
The five-year survival rate for women with lung cancer was just under 19 percent in 2006, the latest data available from the National Cancer Institute. Other cancers survival rates were significantly higher. "We don't have a big survivorship and that is why the onus is placed on the families of those who don't survive," Kono said. "And that is very hard for families. But what Chris is doing is raising awareness and saying, 'This is not just a smoker's disease.' That is really important."
While Draft appreciates the acknowledgment, he's focused on saving lives and changing the face of the disease. He knows what happened to his wife could happen to anyone, whether they have a history of smoking or not.
"She knew it, too," he said. "That's why at the wedding she didn't want gifts. She wanted people to donate to Team Draft."