Chris Draft Tackles Lung Cancer Like a Lineman and Earns the Title of August LUNGevity Hero
August 28, 2014
---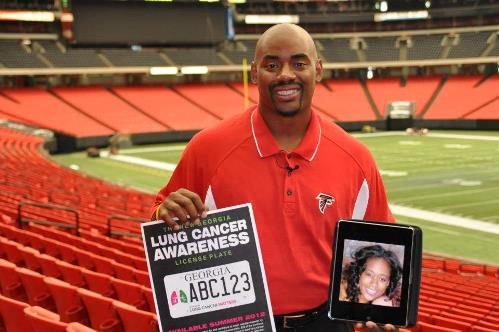 WASHINGTON, August 28, 2014 — LUNGevity Foundation announces former NFL linebacker Chris Draft as the August LUNGevity Hero for his active effort in raising awareness of lung cancer and campaigning for critical funds for research. After his wife's battle with the disease and her passing just one month after their wedding, Draft has become an influential figure in the lung cancer community.
In 2010, Draft's late wife, LaKeasha "Keasha" Rutledge-Draft, was diagnosed with stage IV lung cancer. A never-smoker and self-proclaimed "health nut," the diagnosis came as a shock. She had sought medical assistance after experiencing shortness of breath while training for a 10-kilometer run. By the time doctors discovered the cancer, it had already spread to her brain.
Despite the poor prognosis, the Drafts were determined to combat the disease. On their wedding day, 11 months after her diagnosis, they announced the launch of the initiative, Team Draft, in an effort to inform people of the disease and dismiss the misconception that it is only a "smoker's disease." Exactly one month after their wedding, Keasha lost her battle with lung cancer, but Chris continued his war against the disease.
"Our hope is that when people think of lung cancer, they're not going to think of a cigarette anymore," Chris Draft shared in an interview with FOX Carolina. "But they'll see Keasha, they'll see her face and they'll realize it's people, it's not just a disease, it's people who need our help."
Draft, in affiliation with the NFL, has hosted many benefits to raise awareness and funding, such as "Tackling Cancer with the St. Louis Rams" and "A Survivor in Every Stadium." He has also partnered with other groups in the lung cancer community on programs and initiatives, including a campaign to encourage enrollment in the Cancer Prevention Study-3 (CPS-3). Draft was recently honored by the SCLC (Southern Christian Leadership Conference)/W.O.M.E.N. at their 33rd Annual Drum Major for Justice Awards and named a LIVESTRONG Global Envoy.
"Chris Draft's unyielding commitment to shattering the stigma around lung cancer is remarkable," said Andrea Ferris, president and chairman of LUNGevity Foundation. "Even in retirement, Draft refuses to give up – trading football tackles for the larger lung cancer fight, and LUNGevity is proud to be on the front lines with him."
For more on Chris Draft, visit LUNGevity Hero's Spotlight at http://blog.lungevity.org.
For more information on LUNGevity Foundation, please visit www.LUNGevity.org.
About Lung Cancer
1 in 14 Americans is diagnosed with lung cancer in their lifetime.
About 60 percent of all new lung cancer diagnoses are among people who have never smoked or are former smokers.
Lung cancer is the leading cause of cancer death, regardless of gender or ethnicity.
Lung cancer kills almost twice as many women as breast cancer and more than three times as many men as prostate cancer.
Only 16 percent of all people diagnosed with lung cancer will survive 5 years or more, but if it's caught before it spreads, the chance for 5-year survival improves to 52 percent.
About LUNGevity Foundation
LUNGevity Foundation is firmly committed to making an immediate impact on increasing quality of life and survivorship of people with lung cancer by accelerating research into early detection and more effective treatments, as well as by providing community, support, and education for all those affected by the disease. Our vision is a world where no one dies of lung cancer. For more information about LUNGevity Foundation, please visit www.LUNGevity.org.
Courtesy of www.nflplayerengagement.com/