NC Green Beret battling Cancer Recognized at the Panthers Game
December 18, 2018
---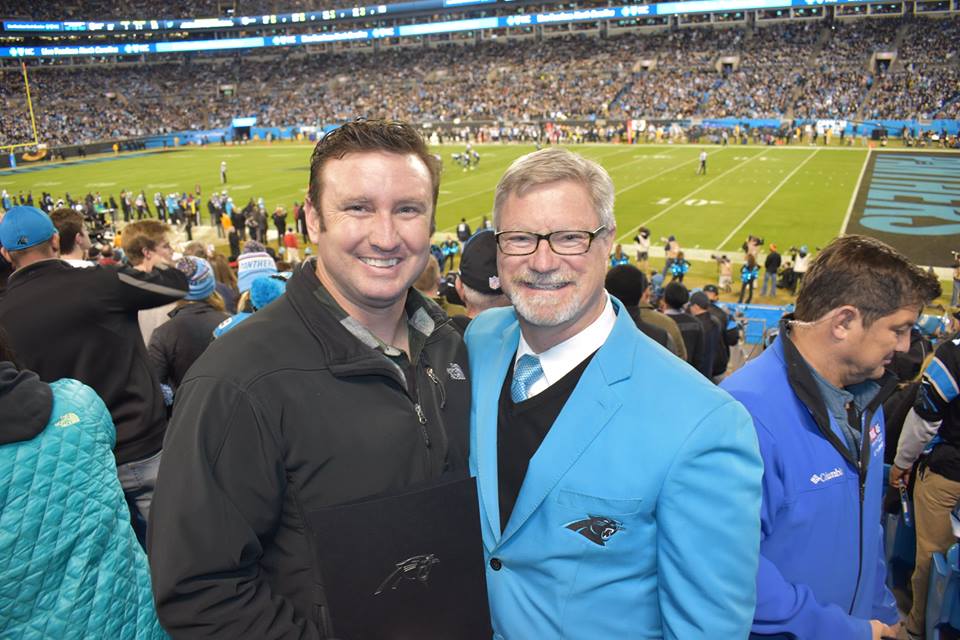 CHARLOTTE, N.C. (FOX 46 CHARLOTTE) – A Purple Heart Green Beret from North Carolina who is battling terminal cancer, and the government over the right to sue for medical malpractice, was honored by the Carolina Panthers during Monday Night Football.
"It's an amazing opportunity," said Sfc. Richard Staskal. "Once in a lifetime for sure."
FOX 46 met Stayskal at the Sam Mills statue before Monday's home game at Bank of America Stadium. Mills, a legendary linebacker, died from cancer and coined the team's motto "keep pounding."
Stayskal and his family were the VIP guests of former Panthers linebacker Chris Draft. Draft saw FOX 46's coverage of Stayskal's fight to overturn the Feres Doctrine and wanted to get results. The 1950 Supreme Court decision prevents active duty military from suing the government. Stayskal has stage four terminal lung cancer – a diagnosis military doctors missed for six months, records show – leading him to fight for a change in law to allow other soldiers the right to sue for malpractice.
"We've got to hold people accountable," said Draft.
After his wife Lakeasha died from lung cancer in 2011, Draft started the Chris Draft Family Foundation and has become an advocate for early cancer detection.
Related Headlines
Dying NC soldier's story prompts…
Soldier fighting cancer, government, over mistake
Congressman wants law change after military's…
"She was going to fight for other people," said Draft. "And that's the same spirit I see in Rich."
Draft is now joining Stayskal's fight for a new law. Stayskal, who says he has a year left to live, has been meeting with members of Congress. Several lawmakers, from both parties, are now calling for a hearing into this issue.
On Monday, Stayskal and his family took a break from radiation treatment to cheer on their favorite team. The Panthers honored Stasyskal during the game, presenting him with a letter from Coach Ron Rivera, a special military team challenge coin and a "Keep Pounding" team flag. His young daughters also received gifts from the team.
"I want you to know the team is thinking about you," Coach Rivera wrote in his letter. "You cheers of support mean a great deal to the team, but please know we are cheering for you. Keep Pounding."
"Fighting to make sure that a diagnosis doesn't get lost is so much bigger than lung cancer," Draft, who is joining Stayskal's fight, said.
Like the Panthers, Stayskal says he'll keep pounding – now with a new friend by his side.
"It's easy and comforting," said Stayskal, "to know you're not the only one going through these things."