Former NFL player huddles down with Guy's Hospital cancer patients
November 29, 2019
---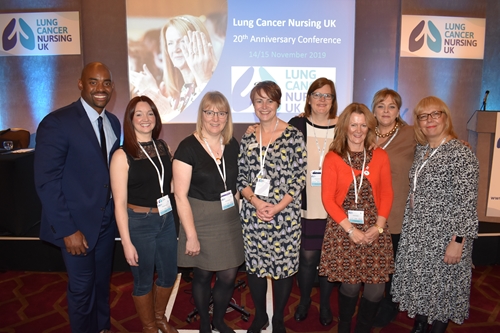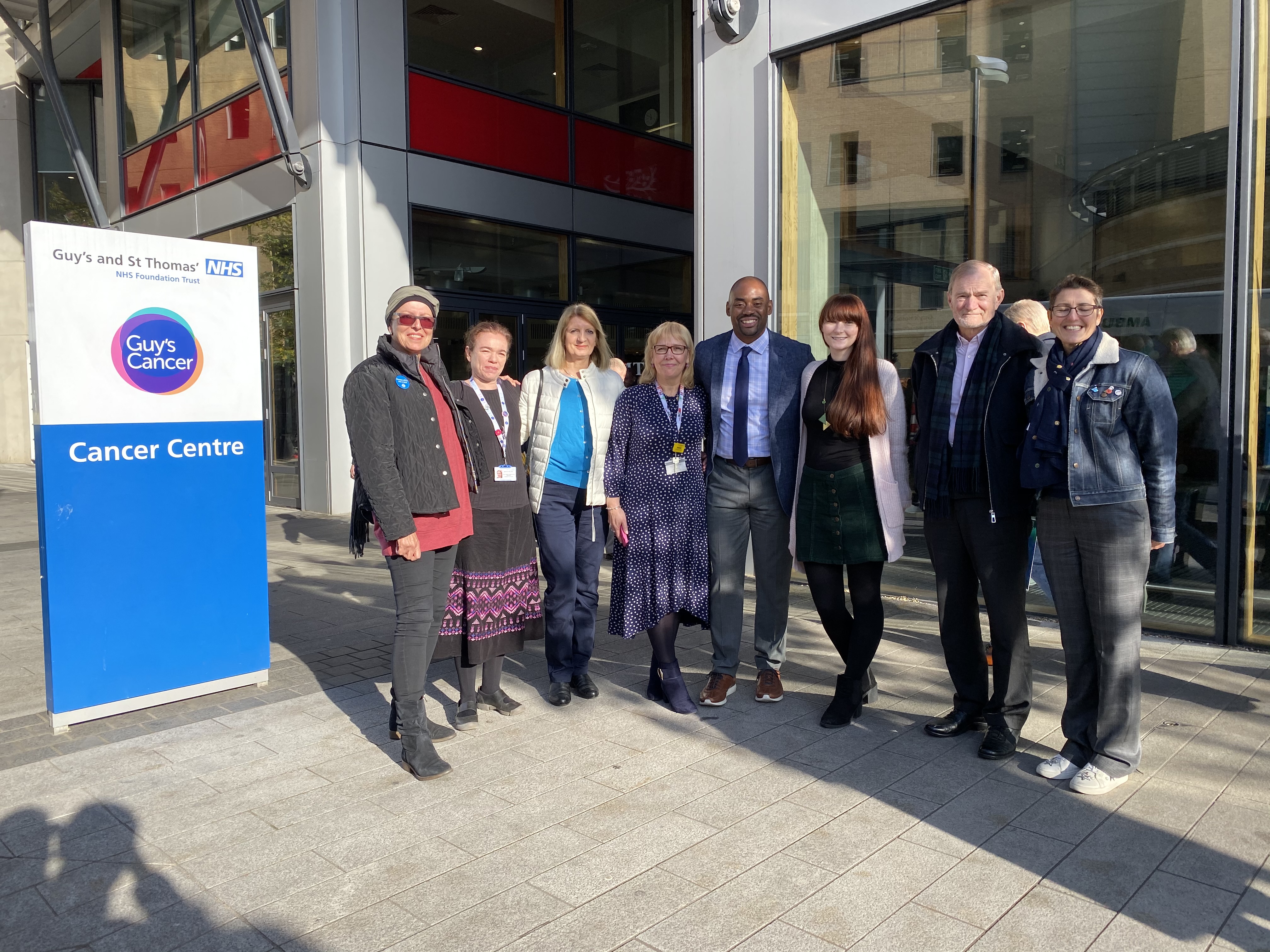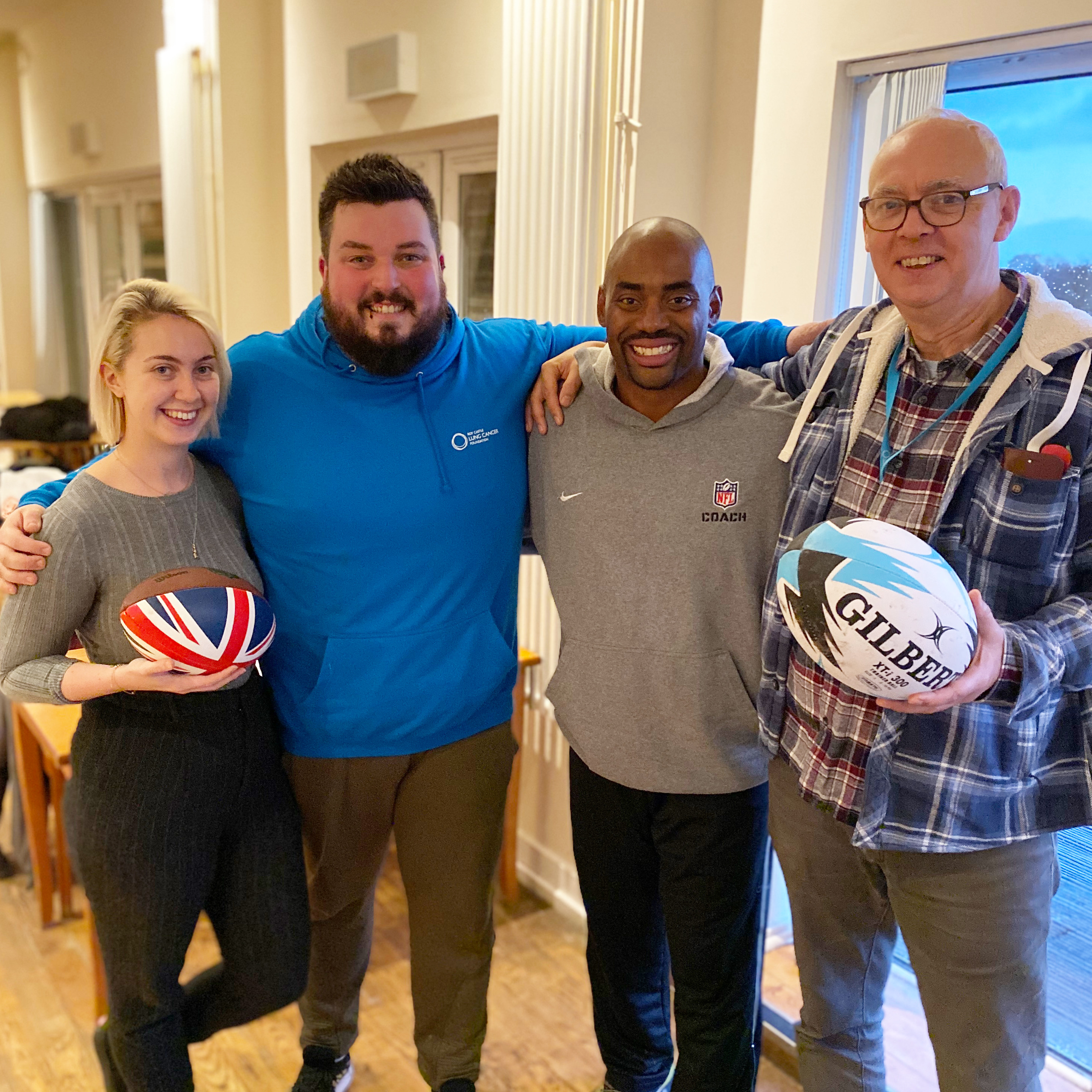 Former NFL linebacker Chris Draft huddled down with patients at Guy's Hospital to tackle stigma around lung cancer.
About 35,000 people die from lung cancer in the UK every year, making it the UK's biggest cancer killer. This is despite major advances in treatment, partly because people wrongly think you have to smoke to develop it.
Chris, who played for multiple NFL teams including the San Francisco 49ers and the Atlanta Falcons, made the visit to Guy's Cancer Centre (Wednesday, 13 November) as founder of Team Draft. This is the lung cancer charity he established with his wife Keasha who died of the disease at the age of 38, having never smoked.
Team Draft is dedicated to raising lung cancer awareness and funding by highlighting the misconception that lung cancer is purely a "smoker's disease."
The visit comes during November's Lung Cancer Awareness month and aims to improve awareness of the signs and symptoms of lung cancer as early diagnosis saves lives.
He met with a group of lung cancer patients and UK ALK+ve, which is a patient advocacy group for lung cancer patients, as part of the visit.
Many lung cancer patients in the UK still only survive two years post diagnosis and Chris wants to ensure lung cancer is at the front of all our minds.
Chris met President Barack Obama in 2016 to lobby for funding for research and spoken at the biggest event in the US sporting calendar the Superbowl to raise awareness of lung cancer. He also played a role in the latest Roy Castle Lung Cancer Foundation #LikeMe campaign.
Chris said:
"It's great to get people to stop smoking. It's great that we have cleaner air and it's great that we improve environmental areas and spaces. But we do need early detection, better research and a focus on survivorship and this is a new message.
"There is a darkness around this disease. The darkness is the lack of information and knowledge that comes with understanding that the campaign of prevention is not enough. The only way we can change that and bring light is to let people know the new message."
Rachel Thomas, lung cancer clinical nurse specialist, Guy's and St Thomas', said:
"One of the major issues is that the public perception is that you only get lung cancer if you smoke but actually 10-15% of patients will have never smoked in their life and be very young.
"In the field of lung cancer, treatment has massively improved. Lung cancer carries huge stigma which needs to be broken down and the public need to know about this huge risk to health. We need to tell people the signs and symptoms of lung cancer so if people are concerned they then ask their GP for an X ray."
Faye Wrotchford, who is 31 and lives in London, was at the event. A non-smoker, she was diagnosed at 28 with lung cancer after having back pains and a stubborn cough.
"I don't blame my GP at all because who would think a 28-year-old would have lung cancer? I was training to be a midwife and working in a bar in the evening so I thought the back pain was to do with twisting and lifting.
"It was wonderful to have Chris here today. He is very compelling and we have learnt a lot and it means that our voices are getting heard. I'm very lucky to be part of this today and hopefully I can go away and do my little bit, so people around me can start to learn the signs and symptoms of lung cancer.
"Hopefully they go on to say: 'My friend Faye was 28 when she was diagnosed with lung cancer and she was never a smoker.' That's how you get the message to spread."
The main symptoms of lung cancer include: a cough that doesn't go away after 2 or 3 weeks, chest infections that keep coming back, coughing up blood, an ache or pain when breathing or coughing, persistent breathlessness, persistent tiredness or lack of energy or loss of appetite or unexplained weight loss.