Former Linebacker Chris Draft Turns Promise to Wife Into a Pledge to Help Others Survive Lung Cancer
March 05, 2021
---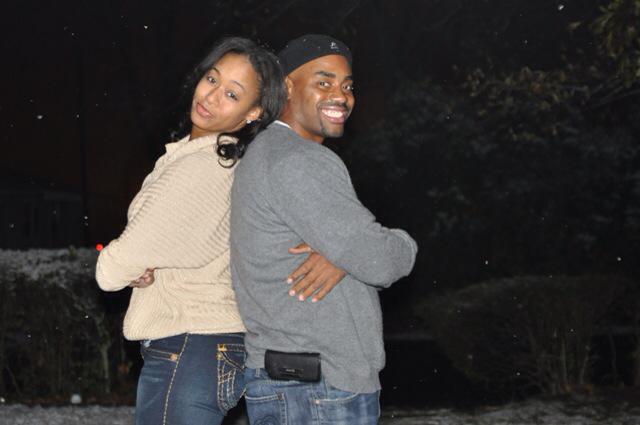 Chris Draft forged his toughness on the football field while playing defense for a long roster of NFL teams, including the Chicago Bears and the Atlanta Falcons. But his mettle would truly be tested in 2010, when his girlfriend, Keasha, received a devastating diagnosis.
"She was in amazing shape. Never smoked. Just this picture of health…She was challenging me to run a 10k race with her. She was challenging me to do P90X with her!" Draft tells SurvivorNet. "And all of a sudden, this little shortness of breath."
Worried about this unusual symptom, Keasha went to see her primary care doctor. A chest x-ray revealed a mass in her left lung. It was lung cancer. Then a PET scan showed that the cancer had spread. "Stage IV lung cancer. What? How can that happen?" Draft wondered.
A Promise Kept
Through the process of Keasha's diagnosis, Draft learned that her case was not unique. Lung cancer is often caught too late to be treated effectively.
In November 2011, the couple married. On their wedding day, they made a commitment — both to each other, and to the lung cancer community. "That commitment would transform into our campaign that changed the face of lung cancer," Draft says.
ust one month later, Keasha passed away from her cancer at age 38. Out of that tragedy, Team Draft was born.
Draft traveled around the country and met with cancer doctors. He learned everything he could about lung cancer, and put himself on the mission of preventing other families from suffering the same kind of loss he'd experienced. Since then, Draft's organization has worked to build awareness about lung cancer and push for more research, earlier detection, and more effective treatments.
"Changing the face of lung cancer is saying that prevention is not enough," Draft says. "I wish that we could prevent all our lung cancers, but we can't. We need early detection…But we can't detect everything early, so we need treatment."
Awareness, Research, Screening
To get the word out about lung cancer and reduce the stigma surrounding the disease, in 2012 Chris launched the Team Draft Survivor Series. Through this program, lung cancer survivors have the chance to attend NFL, NHL, NBA and college football games, and meet their favorite players. Each survivor shares his or her personal story to get the message out that lung cancer can strike anyone.
In 2013, Team Draft helped launch the National Lung Cancer Screening Event to test veterans — the largest subgroup of people who are diagnosed with lung cancer. And the following year, the organization launched the Super Bowl Challenge, which gives lung cancer survivor advocates a chance to compete for a trip to the Super Bowl by raising money for their local cancer center.
More Survivors
Draft acknowledges that great strides have been made in lung cancer treatment, thanks to the introduction of innovative therapies such as immunotherapy and targeted therapy. But he adds that it is critical for the research to keep moving forward to continue this important trend. "Research drives it all. Research saves lives," he says.
Stage 4 Lung Cancer Survivor Saved By Treatment Advances: "I'm Truly in Awe" of Immunotherapy Results
Ultimately, every dollar that is raised and spent on the development of new therapies is done with the aim of saving lives. "We have to remember why we do it. We do it because of survivors," Draft tells SurvivorNet. "We want more survivors. We want our survivors living longer, and we want them living better."