Draft Helps Prepare Rookies at Premiere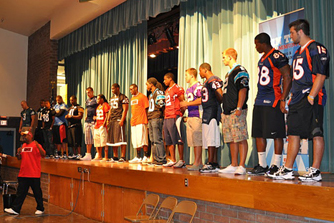 Throughout Chris Draft's 13 NFL seasons, he's learned quite a bit about life in the NFL. It was because of his wealth of knowledge that the NFL invited him to participate in the 2010 Rookie Premiere in Los Angeles.
The rookie premiere is the league's annual conference for its newest members. It's a way for the players to learn more about their upcoming lives as professional athletes, both on and off the field. They also have a chance to participate in some community activities, as giving back is very important to the NFL.
Draft was on hand to speak with the rookies and share some of his experiences as a professional athlete. He also led the rookies in a youth football camp for the kids in California and spent time raising asthma awareness on the west coast.
To view a video recap of the rookie premiere, click here.
To view photos from the event, click here.