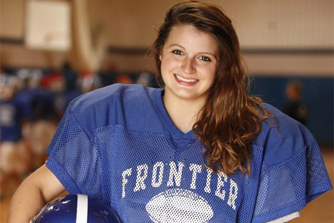 Mia W.
Asthma Team member Mia Wagner joins a growing group of female athletes playing against - and alongside - the boys on the football field.
Story courtesy of BuffaloNews.com
Frontier High School Coach Tim Myslinski told his football players to go easy with their newest teammate.
That was the last thing the senior lineman wanted the coach to say and the players to do.
And she let all of them know it. The same with opposing players, some of whom do double takes.
"When they see my face -- I'll have my eyeliner and mascara on -- they know I'm a girl and they go, 'Oh my gosh, that's a girl,'" Mia Wagner said. "They don't go any easier on me, and I don't want them to. I hold my own and give it my all."
Mia has been playing against and alongside the big boys, and she will be on the field this afternoon when Frontier takes on Kenmore West for the right to advance in the Section VI playoffs.
While more girls are putting on football pads, usually they are kickers. So it is still uncommon enough to warrant a season's worth of double takes from opposing players.
State athletic officials couldn't find a definite count of the number of girls playing high school football.
"It certainly is a rare occasion to have a female athlete competing on a football team in New York State," said Joe Altieri, director of marketing for the state public high school athletic association.
But while the situation remains unusual, it is part of a growing trend, according to Dick Gallagher, editor of Western New York High School Sports Magazine for the past 24 years.
"If you look at the country, every year, a couple thousand, maybe more, girls are playing," he said. "They're not under the radar screen, and they're getting praise ... because of their focus, their perseverance, overcoming adversity."
Mia, who played local youth football from eighth to 10th grade, also has become one of the state's premier girls lacrosse goalies. At the end of last spring's girls lacrosse season, in which she notched the second-best save percentage in Western New York, she approached Myslinski -- who is also her lacrosse coach -- with the idea of playing varsity football.
"I said, 'Are you sure you want to do this?'" Myslinski recalled. "She said, 'I love the sport, love watching it, love playing it, I love being around it.'"
Mia is not alone on the high school gridirons of Western New York this season; Meaghan Murphy, a senior at Lewiston-Porter, is her team's starting placekicker.
Before both girls could snap on their chin straps, they had to pass what Myslinski called a "grueling" state-regulated fitness test that included push-ups, chin-ups and a mile run.
Since then, Mia has participated in football camps and mandatory team weightlifting.
"She's earned her way," Myslinski said. "She's been great. She told me, 'Coach, I know you told [the linemen] to take it easy. Don't do that.'"
They've obliged. So much so that Mia has been adopted by the club of Frontier linemen, nicknamed "the Dogs" for their toughness. Not all members of the team have made it into the club, Myslinski said, but Mia's relentless pace and eager attitude earned her a spot.
"She goes at you. She doesn't quit," said senior captain and nose tackle Jeff King, the leader of the Dogs. "I don't take it easy on anyone. Especially since she's a girl, if she's going to come out, I think we need to give her 100 percent effort. Taking it easy on her wouldn't be fair."
Mental toughness
Opponents haven't taken it easy on Mia, either. She said she takes pride in having the mental toughness needed to be a member of the scout team, which is made up of backup players who prepare the starters by running the opponent's plays. The same is true of the three games she's appeared in as a guard and defensive end.
Mia has done all this with a severe case of reactive airway disease, which has caused her to suffer asthma attacks, including one that almost killed her two years ago.
"She doesn't know what it's like to be a kid who breathes [normally]," said her mother, Tracy Wagner.
After her attack two years ago, which happened while she was playing youth football, her doctor said she was barred from any physical activity for six weeks.
"I looked at mom and looked at them, and I said, 'That's not gonna happen,'" she said. "I started crying because I wanted to play. Two weeks later, I was playing."
Mia and the Falcons will suit up for their Class AA quarterfinal matchup at 2 p.m. today at Kenmore West.
While football has been Mia's passion since middle school, Meaghan joined the Lewiston-Porter squad almost by accident.
The team was eager to replace its kicker, who moved to Texas late in the summer. While a group of players struggled to make a field goal, one of the team's assistant coaches noticed Meaghan practicing with the cheerleading squad.
Remembering that she was a standout soccer player, the coach asked the cheerleading coach whether Meaghan would be interested in kicking.
"It was just a little bit of motivation for the boy [kickers], but as it turned out, she turned out to be a really good kicker," coach Dick Lindamer said. "She's learning a lot about football. She seems to be enjoying it. She's an athlete and enjoys competition, and she wants to do well."
By high school kicking standards, she has. Going into Friday's 7 p.m. Class B quarterfinal matchup with Alden, she was 12 for 16 on extra-point attempts.
"The day they asked me to bring my cleats, I was amazed at myself," Meaghan said. "I had never kicked a football before that."
Pressure-packed
She said recent publicity has added another challenge to an already pressure-packed position, with opposing teams trying to figure out who the girl is on the other team. She credits her teammates for putting her in position to make extra points.
"Really, without them playing their offense and defense as well as we do, I wouldn't be kicking these extra points," she said.
Parents and coaches of both teams have said having a female on the team has been a positive. The Frontier boys act "more like gentlemen," Myslinski said.
And Meaghan's mother, who attended the football games before Meaghan was on the team, thinks the team has bonded in a special way.
"I've seen a difference in those boys," she said. "The boys just seemed different with Meaghan on the sidelines. And I'm sure they're doing the same for her. I'm sure they're [saying] 'We need you' and 'Get out there and do your job.'"
That's no surprise to Gallagher. He recalled playing pickup sports in the 1950s, when he competed with boys and girls each day.
"There were girls who we played with in the '50s, that were just as good, if not better, than boys," he said. "They could play pickup games with us during the course of the week, but then they had to sit on the sidelines."
Those days are over, Gallagher said, thanks in part to the 1972 Title IX legislation and more.