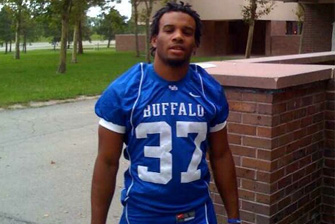 John S.
John Sanders has been willing to go just about anywhere for the chance to play football.
Story Courtesy of the Buffalo News
John Sanders has been willing to go just about anywhere for the chance to play football.
Since graduating from high school, his travels have led him first to a junior college in Kansas, jobs working overnight at Home Depot and as a personal assistant for a televangelist, another junior college and finally earning a scholarship to the University at Buffalo.
Although the senior safety's playing time has been limited to special teams, he knows the sport has given him the opportunity to reach his ultimate goal: graduation.
"If I had a chance to do it all over," Sanders said. "I'd do it exactly the same way."
The 5-foot-9, 195-pound Sanders played tailback and strong safety at Fort Pierce Central High School in Florida and was an all-county selection as a senior. While in high school, Sanders got his first taste of working in the real world as a mechanic at a Toyota dealership.
"Man, it was a job," Sanders said. "I cleaned up the garage, I worked on the oil and lube team changing oil and tires. I can change the oil, I can tell you how to keep the car running, I can rotate your tires. I can give you everything you need."
Sanders was an all-state wrestler who finished third in the state in his weight class and was offered a scholarship by Boston University. He couldn't attend a Division I school, however, because of low test scores and decided to attend Dodge City Community College to play football where he redshirted.
"He really didn't like it, his grades weren't that good and he was far away from home in the Midwest," said Sanders brother, Richard, who played linebacker at UB from 2002-05. "He ended up coming home."
Sanders returned home, got a job at Home Depot working overnight on the freight team stocking shelves.
"It was tough," he said. "I wanted to do something to keep me in shape so I did the night freight. I did it and it was like, 'This is terrible.'"
Richard was working as a body guard for televangelist Benny Hinn and Hinn added on John as a personal assistant. Sanders and his brother worked for Hinn for about six months, traveling with Hinn to Italy, Greece and Spain.
"I flew everywhere with him, held bags, opened doors and I was around him a lot," said Sanders, who worked with Hinn for about six months. "He looked at us as more like friends than workers."
But Sanders still had the urge to play football so Richard brought him to Western New York and introduced him to former Buffalo Bills player Demeris Johnson, the vice president and director of sports training at Thurman Thomas Sports Training.
"He took me in as one of his sons, he didn't know me from anybody," Sanders said. "I stayed at his house off and on ... and I wasn't John to him, I was his son. I was able to train at his facility."
Sanders eventually enrolled at Erie Community College and played special teams but in order for him to even try out as a walk-on at a Football Bowl Subdivision school he had to earn 48 credit hours in a year.
"I took 21 during the season, I took six during the winter session and during the spring I took 21," Sanders said. "This lady at ECC told me there was no way I could do it, but I became eligible and got accepted [to UB]."
He wanted to continue his career at Central Florida but didn't get any response, so Richard went to former coach Turner Gill about the possibility of his brother walking on at UB. Gill was initially lukewarm on the idea but a week into training camp, some players suffered injuries and Gill needed bodies for special teams.
He asked, 'Can your brother come in tomorrow?,'" said Richard, who now runs his own personal training company. "He asked if he could play corner and I told him he will play any position you want him to."
John played special teams last season and received his first action at Central Florida.
"I got my shot against UCF, the first game I ever played in," Sanders said.
"I went out there and just lit somebody up," Sanders said of UCF game. "It was a great feeling, I had a lot of family and friends there, kids I played with and against in high school. It was a real good feeling."
Last summer, first-year coach Jeff Quinn put Sanders and five other former walk-ons on scholarship.
"They've earned it and they've done all the things I've asked them to do," Quinn said.
For Sanders, a sociology major, it was the prize he has been waiting for.
"It was a blessing to me, my parents back home and my big brother Rich," he said. "It showed me that all these obstacles that you have you can't ever give up no matter what anybody tells you. ... Hard work really does pay off. All I needed was a chance and I got it when I came here. The rest is history.