Draft Helps Award the LEAGUE's All-American Service Team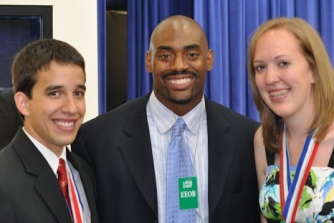 On Wednesday, June 23, Washington Redskins linebacker Chris Draft helped The LEAGUE announce their All-American High School Service Team, recognizing high school students for their commitment to their community.

The LEAGUE is a school and web-based system for service learning that builds character and empowers young people to "do good" in their community, the nation and the world. The league's All-American High School Service team recognizes the students across the United States that have taken this mission and put it to work in their community. The students were recognized at an awards breakfast on June 23 at the Ronald Reagan Building in Washington D.C.

Draft presented the All-American High School Service Team award to one of three finalists in the environmental category. Draft will present the award to one of the finalists, who were selected through nominations in PARADE Magazine, congratulate them and thank them for their community service.

"Anytime you see young people coming together and making a difference in the community, it's well worth my time to salute them for their efforts and congratulate them on their accomplishments," said Draft, a 13-year NFL player. Following the event, Draft will have the opportunity to meet and talk with Vice President of the United States Joe Biden at the Old Executive Building by the White House. Draft and Biden will have the opportunity to talk about the awards and the importance of community improvement.

The Chris Draft Family Foundation recognizes people that are committed to their community through the foundation's Community Improvement initiative. No matter what city Draft finds himself in, he makes a commitment to making that community better and recognizes the people that are taking the initiative to do the same.