Draft Honors Martin Luther King as Ambassador of Service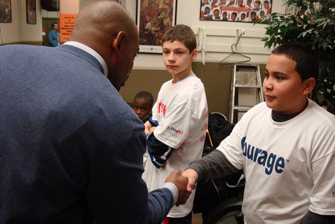 For a quarter of a century, the nation has honored a man who changed the world, Dr. Martin Luther King Jr. This year, NFL leader and Ambassador for Service Chris Draft will lead several projects to make Dr. King's Dream a Reality to mark the 25th anniversary of the establishment of the holiday. This is the second consecutive year, Draft has served as an Ambassador of Service. Last year's celebration included notables like NAACP Chairman of the Board Julian Bond, BET CEO Debra Lee and actor Hill Harper among others. Draft is one of the few active NFL players contributing to this national effort.

President Barack Obama's initiatives have always emphasized service. United We Serve honors Dr. King
through "a day on, not a day off." Draft will be one of the community and political leaders across the county
participating in a series of coordinated service projects.

Draft will have the opportunity to coordinate service projects in Dr. King's hometown of Atlanta, Ga.
A complete list of upcoming events will soon be released.
Last year, Draft had the opportunity to participate in a weekend of service projects in Buffalo, N.Y., joiningBig Brothers, Big Sisters, the Boys & Girls Clubs of Buffalo and PUSH Buffalo for projects that served thecommunity through promoting healthy living, physical fitness and community beautification and rebuildingprojects.
(RECAP: 2010 MLK Day of Service in Buffalo, NY)
United We Serve is hosting service events across the country on Martin Luther King Jr. Day. Visit mlkday.gov to find out how you can serve.