Isamar T. - A Discussion and a Movie "The Blind Side" L.A.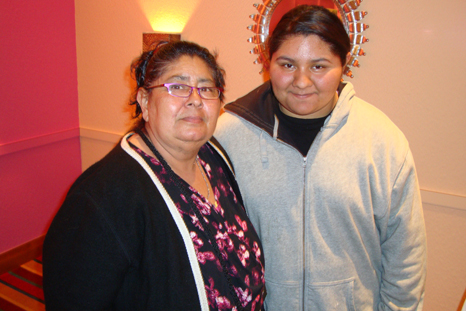 I would say that my school and my mother have been there for me. I mean, my father used to be an alcoholic and my mother would smoke when she was pregnant with me, but she decided to stop when she got pregnant with my sister, after she saw what smoking had done to me. I am a 16-year-old female with asthma that hasn't stopped me.
When I was in seventh grade, I went through depression because of what happened to me. I wasn't in school for about two years, but I finally got help from Frida Kahlo High School. My principal, Mr. Gonzales, might be strict, but he was the one that gave me the opportunity to be a part of this school and to succeed. My mother would try to tell me to go to school, but I was a rebel, and I wouldn't listen to her. When I tried to go back to school, at the time I was at Santee Education Complex High School, they didn't accept me. So, I went to Frida Kahlo High School, and it's the best thing that has happened to me. Without the help and support from my principal, teachers, family and friends, I wouldn't have made it this far.
I thank my principal, Mr. Gonzales, my teachers, Ms. Kacher, Ms. Adebona, Mr. Mendoza, Mr. Campbell, Mr. Chang, Ms. Aviles, Diane and my friends, who I know can be goofy at times, but are always there for me. I also want to thank my mom. I know what she did to me, but I am not one to judge her. She is a human being, and I know we all make mistakes. We should accept each other just the way we are. My aunt who died about six years ago told me some encouraging words two days before she died. She said "I know what happened to you was bad, but don't let it control your life. Stand up for what you believe and never give up. Remember, a quitting time is no time to quit trying."
To this very day, I live with those words as part of my life, and I'm not going to let something that happened in the past get the better of me. I made a promise to my aunt that I was going to do better, and here I am trying my best to succeed and graduate. I loved my aunt so much, she was like a second mother to me. She's gone now, but I'll never forget her words that are making me live and try hard to do my best. This is my essay on how people from my school and my family have made a big impact to help me succeed and become a better person.